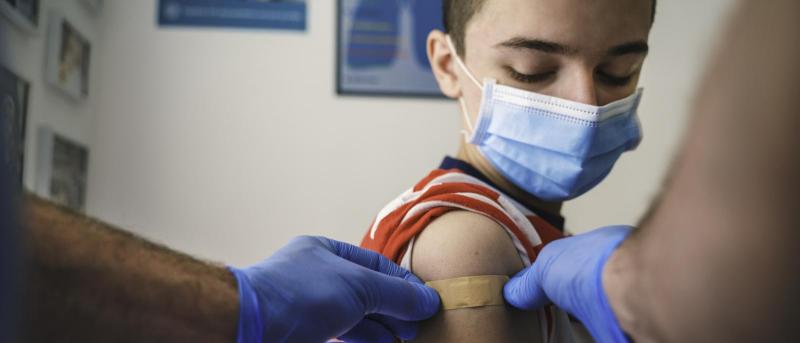 COVID-19 Vaccination for Kids Under 12: Q&A with Pediatrician Mara Minguez
After months of waiting, COVID vaccines for children between 5 and 11 years of age are available. On Nov. 2, the CDC endorsed the recommendation to extend eligibility for the Pfizer vaccine to children between 5 and 11 years of age and urged parents to get their children vaccinated as soon as they can.
Though many parents started making appointments weeks ago in anticipation of the decision, other parents, including those who have been vaccinated themselves, are hesitant.
We spoke with Mara Minguez, MD, assistant professor of pediatrics at Columbia University Vagelos College of Physicians and Surgeons and of public health at the Mailman School of Public Health, about some of the concerns parents are likely to have.
---
How was the vaccine tested in children under age 12?
The vaccine was found to be very effective in children ages 5 to 11 years old in a clinical trial involving about 4,500 children from a diverse population. Over 3,000 children in the trial received the vaccine, which is a third of the Pfizer adult dose, given in two shots. The vaccine was reported to be safe and 90.7% effective against symptomatic COVID infection.
---
Why is the dose for children one-third the dose given to adults?
Studies showed that this lower dose generated a robust immune response in this age group. The idea is to find a dose that generates an adequate immune response with minimal risk of potential side effects.
---
What are the side effects that parents should watch out for, and how common are they? Do they resolve?
The reported side effects were generally similar to those in adolescents and adults, with pain at the injection site slightly lower in the 5-11 year-old group, but redness and swelling slightly higher. Systemic reactions such as fever, fatigue, headache, chills, and muscle pain were generally reported less often and were milder in severity in the 5-11 year-old group compared to individuals 12 years of age or older. The most common side effect was a sore arm. There were no reports of myocarditis/pericarditis or anaphylaxis.
---
Does the risk of COVID (and MIS-C) in young children outweigh the potential risk of side effects from the vaccine?
The risks associated with COVID infection are higher than those of getting vaccinated. According to the CDC, approximately 8,300 COVID cases in children 5 through 11 years of age have resulted in hospitalization. There were no deaths in the vaccine trial, while tragically, as of October 17, 146 children aged 5 to 11 have died from COVID.
We do not yet have long-term data for this age group. But the 146 deaths are too many—even if the number is substantially smaller when compared to adult deaths.
---
How urgent is it for kids to get vaccinated? Since infection rates are declining, why should we rush to give them the vaccine?
According to the American Academy of Pediatrics, as of October 2021, more than 6.3 million children under 18 have tested positive for COVID. Since the first week of September, there have been over 1.3 million additional child COVID-19 cases. Currently, children make up 24.2% of reported cases. The Delta variant, in particular, has fueled a surge of infections in children of all ages. While it is important for children to be vaccinated to protect their own health, children can also spread the virus to vulnerable populations, including their grandparents and other family members. They are an important source of transmission and play a significant role in prolonging the pandemic, as well as contributing to the potential development of dangerous variants.
As for the effects on children's lives, outbreaks in schools cause damaging social and academic disruption. The numbers of children who test positive for COVID in the school I serve have been steady this fall, but the disruption resulting from classroom closures and exposures continues to have a detrimental impact on in-person learning.
---
How do you address parents who are hesitant?
First and foremost, it is imperative to listen to parents' concerns. Parents care for their children, and their hesitancy stems from fear of hurting their children. After parents express their concerns, we must provide them with information regarding the vaccine, tailored to their needs. For example, if their concern is how fast the vaccine was produced, we describe the process and inform them that all regulatory stages were followed. We inform, not convince. Ultimately, they have to make their own decision and feel comfortable.
It is also important that we let families know that we strongly recommend their child be vaccinated.
---
You have three kids under 12—what are you going to do?
I will be honest and say that I, too, was somewhat nervous at first. But my fear of COVID is much greater than my fear of any potential vaccine side effects. I felt very reassured by the data.
I have a 12-year-old who got vaccinated on her birthday! I had a discussion with her, and she was excited to be vaccinated. My 6-year-old and 9-year-old are also eager, and I have made appointments to get them vaccinated.
Learn more. Columbia pediatrician Melissa Stockwell, MD, associate professor of pediatrics at Columbia University Vagelos College of Physicians and Surgeons and chief of the division of child and adolescent health at Columbia University Irving Medical Center/NewYork-Presbyterian Morgan Stanley Children's Hospital and NewYork-Presbyterian, and Karen Acker, MD, assistant professor of clinical pediatrics at Weill Cornell Medicine and pediatric infectious diseases specialist at NewYork-Presbyterian Komansky Children's Hospital, share what parents should know about the vaccine for children between 5 and 11 years of age.
---
My child is about to turn 12 in two months. Should I wait, so they can receive the adult dosage?
The recommendation is to vaccinate your child as soon as you can to provide protection against the virus. Since it takes five weeks to be fully vaccinated with the current FDA-approved Pfizer vaccine, it is important not to wait once your child is eligible.
---
Can my child get other vaccines at the same time?
According to the CDC, it is safe to receive the COVID vaccine at the same time as other vaccines. It is important to adhere to the recommended childhood vaccination schedule to protect your child and prevent outbreaks of diseases such as measles. We are also starting to see flu infections. Children can get the flu and COVID vaccines at the same time.
---
Can we end the pandemic without vaccinating kids? 
It is unlikely, since children continue to be a major source of transmission.