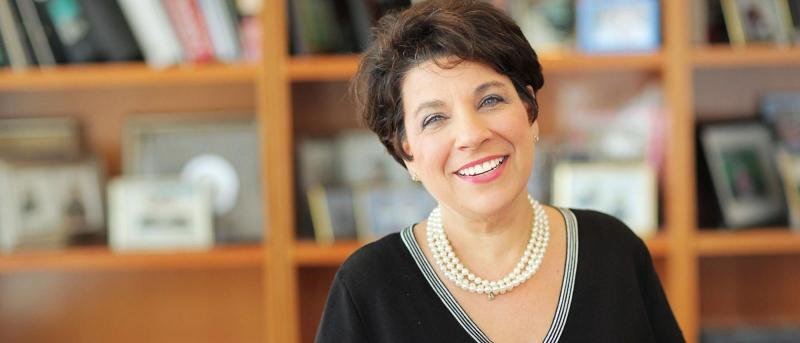 Cory Abate-Shen, PhD, Named Chair of Pharmacology at Columbia
Cory Abate-Shen, PhD, a distinguished scientist whose multidisciplinary research has advanced our understanding of the molecular basis of cancer initiation and progression, has been named chair of the Department of Pharmacology at Columbia University Vagelos College of Physicians and Surgeons. Her appointment will be effective April 1, 2019.
Dr. Abate-Shen will succeed Robert S. Kass, PhD, the Hosack Professor of Pharmacology, Alumni Professor of Pharmacology, and chair of pharmacology since 1995. Dr. Kass, whose research has focused on studying the cellular and molecular basis of electrical activity in the heart, will continue to pursue his studies on the structure and function of ion channels. 
"Dr. Abate-Shen's pioneering research in cancer biology, along with her leadership experience, make her the perfect choice to chair this important basic science department," said Lee Goldman, MD, dean of the Faculties of Health Sciences and Medicine at Columbia University and chief executive of Columbia University Irving Medical Center. "She has served in multiple roles since joining Columbia, and this new appointment will enable even more medical students, graduate students, postdoctoral researchers, and faculty to benefit from her knowledge and vision as scientist, mentor, and faculty leader."  
Dr. Abate-Shen's research focuses on understanding how basic mechanisms that control gene expression and cell identity become impaired during cancer initiation. She has also discovered new mechanisms that promote the spread of cancer and has provided genetic evidence that cancer cells can develop resistance to therapies by reprogramming themselves into a different type of cell. Much of this pioneering research involves the use of genetically engineered mouse models that she and her colleagues have developed at Columbia.
Dr. Abate-Shen has also led multi-investigator collaborative studies, integrating findings from mouse models with human clinical data. These studies have identified prognostic drivers of cancer initiation, progression, and drug response, as well as leading to new clinical trials that are transforming the landscape for prevention and treatment of prostate and bladder cancer.
Dr. Abate-Shen is an American Cancer Society Professor, the first faculty member at Columbia University Vagelos College of Physicians and Surgeons to have received this honor. Previously, she served as a member of the National Cancer Institute's Board of Scientific Counselors, and she currently is a member of the board of directors of the American Association of Cancer Research. She was recently elected a Fellow of the American Association for the Advancement of Science.
"I am excited to have this opportunity to lead the Department of Pharmacology as it continues to embrace the integration of precision therapeutics, chemical biology, and pharmacogenomics," said Dr. Abate-Shen. "In addition, I am pleased to have the opportunity to serve as a role model and to continue to mentor women scientists as part of my new position." 
Recruited to Columbia in 2007, Dr. Abate-Shen is currently the Michael and Stella Chernow Professor of Urologic Sciences and professor of pathology & cell biology, medicine, and systems biology. She has served as the leader of the prostate program, associate director, and twice as interim director of the Herbert Irving Comprehensive Cancer Center (HICCC) at Columbia University Irving Medical Center and NewYork-Presbyterian.
Dr. Abate-Shen received her PhD degree from Cornell University and pursued postdoctoral training at the Roche Institute of Molecular Biology. In 1991, she joined Rutgers-Robert Wood Johnson Medical School as an assistant professor, and was named professor in 2001. She was appointed chief of a new division of developmental medicine and research in the school's department of medicine in 2002. Dr. Abate-Shen also created the prostate program for the Cancer Institute of New Jersey, where she served as co-leader from 1997 until joining Columbia University.