Community Service at CUIMC Evolves to Meet COVID-19 Challenges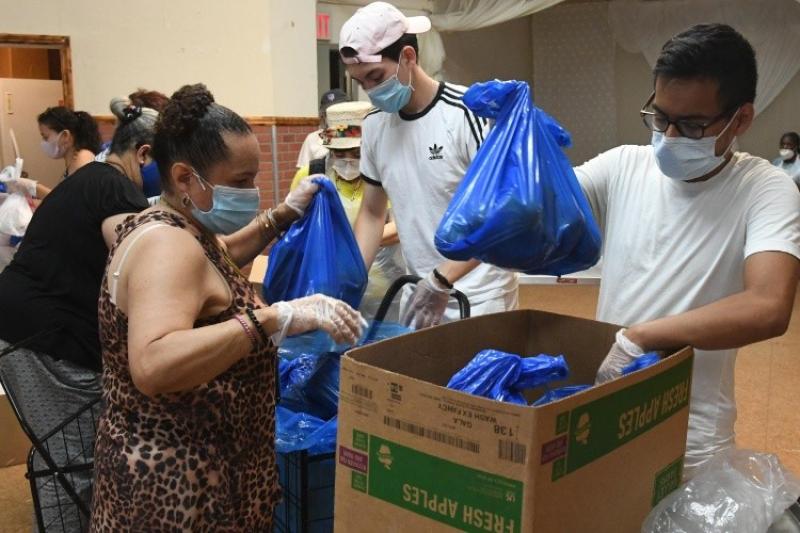 Through the CUIMC Office of Government and Community Affairs (GCA) and the Office of Community Service Programs (OCSP), the medical center traditionally serves tens of thousands of community residents each year. The coronavirus pandemic has forced changes in programming, but efforts have evolved to continue serving communities in Washington Heights and Inwood, Upper Manhattan, and the Bronx.
Historically, CUIMC sponsors, organizes, and promotes numerous programs, offering everything from college prep and dental clinics to community-based research and clinical home visits. The pandemic has impacted every program differently. Some efforts have ramped up, others have had to scale back, and all have had to adapt.
"I've been proud to see how our many efforts have evolved to meet the needs of the day," says Rafael Lantigua, MD, associate dean for community service for the Vagelos College of Physicians and Surgeons. "In concert with our communities and the many organizations that serve them, we have continued to offer diverse and abundant programming that both provides opportunity and meets critical needs. Even under the intense pressure of a pandemic, we have seen our colleagues continue to rise to the challenge and support their neighbors." 
Among those efforts, the Medical Center Neighborhood Fund and its contributions to the Columbia Neighbors Food Relief Fund have been more critical than ever. In light of the pandemic and its widespread economic impact, those organizations have seen staggering increases in demand.
Recently, funds have helped the Holyrood Church meet increased demand and provide meals for hungry families throughout Washington Heights. With this support, the group is now able to serve between 65 and 75 people at each meal and offer grab-and-go meal distribution and a food pantry. Overall, the fund provides for approximately 1,000 meals a day for families in need.
College prep and internship experiences at CUIMC have found a way to carry on as well. The Summer Youth Employment Program (SYEP) through the NYC Department of Youth & Community Development (DYCD) evolved to offer remote internship opportunities. DYCD partners with businesses and organizations to provide employment opportunities for youths ages 14-24. With the pandemic in play, the program was initially suspended, but it eventually pivoted to create the Summer Bridge Program. The new programming focused on project-based learning done completely online. Students were given a project or a problem to solve and then presented their findings to the department. This year, CUIMC placed more than 20 participants in projects throughout the medical center.
"The response has been really good this year. We've received great feedback," says Jahneille Edwards, community affairs associate in GCA. Edwards says that virtual SYEP programming will continue next year, running adjacent to the traditional in-person programming. "We've found that this style of internship increases accessibility by opening opportunities for those who aren't able to make it to campus for the in-person experience," she says. 
As children return to school, efforts to provide tutoring and mentorship programs have evolved, too. The America Reads Program has partnered with local elementary schools for more than 20 years, with the goal of ensuring that all children can read independently and on grade level by the third grade.
Before the pandemic, GCA collaborated with local community-based organization Fresh Youth Initiatives to place America Reads volunteers and work-study participants at P.S. 128 to provide students with after-school assistance and homework help. Now Edwards and her colleagues are exploring new opportunities to take America Reads programming online.
"We need to see how we can integrate our programming into online learning," she says. "There are a lot of low income, first generation, and immigrant families who rely on this type of programming, and online learning continues to pose challenges for all parents. 
"We know the need for tutoring is there," she says—maybe now more than ever. "It's just a matter of figuring out how to best serve the community." 
This is only a small sample of the community services programs and initiatives at CUIMC. For more news and updates from around CUIMC and the broader Columbia community, visit the Office of Community Services Programs and Columbia Neighbors.
Visit the Office of Government and Community Affairs to learn more about volunteer opportunities and how you can help.