Columbia's Wellness Center Builds Foundation of Trust with Community
The Columbia Wellness Center opened in Spring 2017 and is dedicated to improving public health in Harlem and Washington Heights. Led by Columbia physicians Olajide Williams, MD, and Sidney Hankerson, MD, the center differs from other community health centers in that it focuses on culturally tailored services and activities. Its many outreach activities include screening people for cardiovascular disease, training community members in CPR, and helping local residents navigate health insurance enrollment and find free or low-cost clinical resources. All of its services are free to the community.
When COVID-19 struck, the center was positioned to play an influential role in the community. Though the center closed its facility in March 2020 and paused all in-person activities in response to the pandemic, its role in the community grew in importance.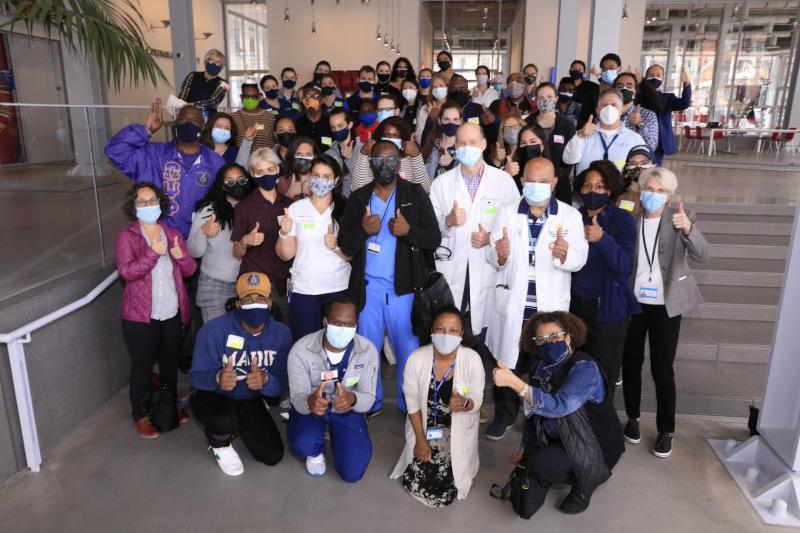 The center's many pandemic-related activities included a vaccination hesitancy education series with Harlem Advocates for Seniors and a Community Health Worker Town Hall series on the COVID-19 vaccine, presented with Columbia University Irving Medical Center and NewYork-Presbyterian.
The Wellness Center administered more than 2,000 doses of vaccine at local churches and at community vaccination clinics on Columbia's Manhattanville campus. Vaccination efforts emphasized safety and ease of access: Appointments could be made via a single phone number and walk-ins were welcome.
"Our community health workers have reached a lot of people in the community who probably wouldn't have been vaccinated otherwise," says Williams. "One reason for our success is that we don't ask any questions. We don't even ask for identification—the only questions we ask are medically related.
"I'm very proud of the work our community health workers have done during the COVID pandemic," he adds. "Since the center opened, our workers have formed close relationships throughout the community. So when COVID hit, they had already built a foundation of trust. That's key to all the work we do: The people in the community know they can trust us."
References
More information
The Columbia Wellness Center is located on the ground floor of the Jerome L. Greene Science Center at 610 W. 130th St.
Olajide Williams, MD, is professor of neurology, chief of staff of the Department of Neurology, and associate dean of community research and engagement at Columbia University Vagelos College of Physicians and Surgeons. He is a specialist in the treatment of stroke and cerebrovascular diseases.
Sidney Hankerson, MD, is associate professor of psychiatry at Columbia University Vagelos College of Physicians and Surgeons and a psychiatrist at the NewYork-Presbyterian Charles B. Rangel Community Health Center.