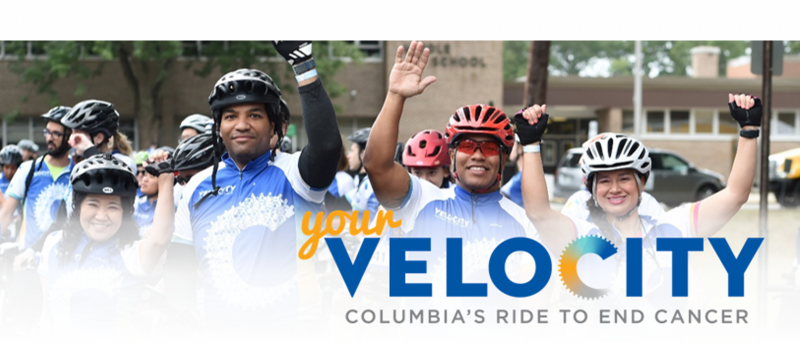 Columbia's Fundraiser for Cancer Research Gets Personal for 2020
An annual tradition of the fall season is Velocity: Columbia's Ride to End Cancer. In past years, the cycling fundraiser has raised millions of dollars for cancer research at Columbia and brought together hundreds of people with the same mission of ending cancer.
This year, in response to COVID-19, Velocity is taking a new, personal approach called Your Velocity.
Your Velocity is a chance for any one to raise funds for Columbia's Herbert Irving Comprehensive Cancer Center and the health care heroes on the front lines of the COVID-19 pandemic. 
Participants simply pick an activity to complete on or before Velocity Day—October 4, 2020—and register to start fundraising.
With no registration fee, no fundraising minimum, and the option to choose any activity, participating is easy and open to every one.
On Velocity Day, all participants and supporters are invited to come together virtually at 9 a.m. ET for a special live Velocity Day Broadcast to show support for the patients, doctors, and researchers who will use the support to fund cancer research and COVID-19 recovery efforts. 
"Support is everything when you're fighting this disease," says Rudi Odeh-Ramadan, PharmD, vice dean for finance and administration for Columbia University Vagelos College of Physicians and Surgeons, who is cycling 10 miles and walking 10 miles on Velocity Day. "To have this kind of support and to see everybody coming together from all different walks of life, it means so much to anybody who's fighting the disease."
Funds raised by Your Velocity help people like Preyaa Docu, who learned that she inherited a genetic mutation that raises her risk for certain types of cancer. "I'm what's called a 'previvor,' which means I have the gene that puts me at risk, but I haven't been diagnosed with cancer," Docu says. "There are lots of people just like me–lots of previvors–but they don't know it." 
Docu receives care through the Herbert Irving Comprehensive Cancer Center and last year started the Full Life Foundation for Lynch Syndrome to promote awareness and raise funds for Velocity and cancer research.
Hundreds of people have already signed up for Your Velocity, including cancer survivor Patti Murillo-Casa, who is spinning 121 miles, 11 miles each day for 11 days, to mark 11 years of being cancer-free; Columbia oncologist Dawn Hershman, MD, who is completing the Peloton Cycling Core 4 Challenge; and Mailman student Jyoti Kumar, who created a Velocity cycling and walking team with friends and family in India.
Other participants have chosen to sail, hike, or climb mountains to support cancer research at Columbia.
Register today for Your Velocity.