Columbia Welcomes First Class of Genetic Counseling Graduate Students
Columbia's Genetic Counseling Graduate Program has launched with an inaugural class of 12 students, who kicked off their orientation with faculty and staff members on Aug. 19 at a ribbon cutting ceremony on the medical campus. The new two-year program in the Vagelos College of Physicians and Surgeons (VP&S) will immerse students in clinical genetics, counseling, communication, genomic medicine, precision medicine, and the social implications of these advancing technologies. 
"There are 49 accredited genetic counseling graduate programs in North America right now and Columbia is unique among them for a variety of reasons," says the program's director, Amanda Bergner, MS, CGC, associate professor of genetic counseling (in genetics & development) at VP&S. "We have a well-integrated medical campus. Our students are engaged in clinical work, in fieldwork, in research, and in education. The diversity of the patient population that comes to Columbia is a real benefit for students who choose to study here, as well the wider array of opportunities and mentors to be found across collaborative departments at the medical center and on Columbia campuses at Morningside and Manhattanville."
Jessica Giordano, MS, CGC, a genetic counselor in the obstetrics & gynecology department and the program's recruitment director, worked with Bergner and others on campus to prepare for the incoming students. "We have not only recruited an impressive inaugural class but have already launched a variety of efforts to attract future applicants that reflect the diversity of the communities we serve," says Giordano.
Meet the Class of 2021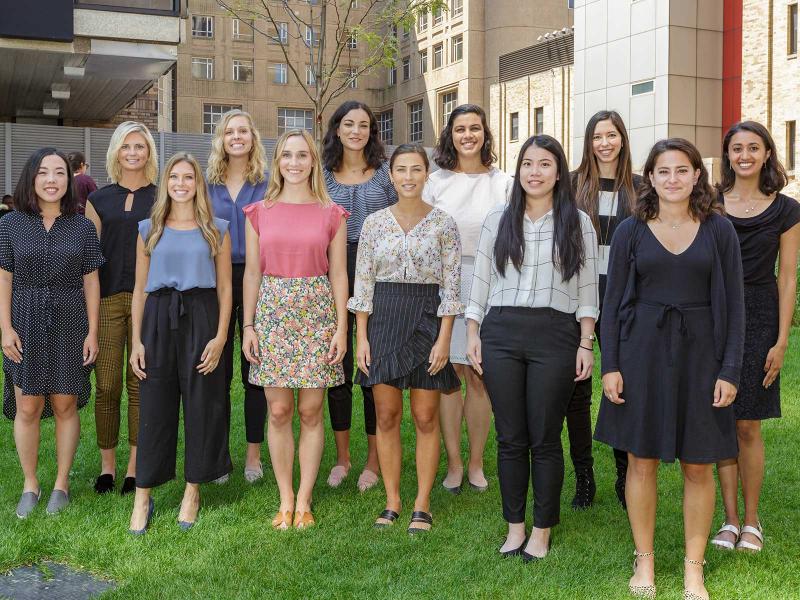 Students in the program were selected through the Genetic Counseling Admissions Match, which places applicants in North America into master's-level genetic counseling programs accredited by the Accreditation Council for Genetic Counseling. The 12 students enrolled in Columbia's inaugural Class of 2021 have a variety of educational backgrounds, including biology, psychology, philosophy, global and public health, bioethics, molecular and medical genetics, bioengineering, performing and media arts, music, and mathematics. They have collectively engaged in diverse human service initiatives such as serving in the Peace Corps, volunteering in food pantries, participating in global medical service trips, working with homeless and disadvantaged populations, and advocating for survivors of sexual assault and domestic violence.
In addition, the program has selected Denise Ma as its first Steinhardt-Goldman Family Scholar, a distinction that includes a partial two-year scholarship to support her studies. The Steinhardt-Goldman scholarship was established by Jill and Lee Goldman. 
"It is with great excitement that we have endowed a scholarship for Columbia's Genetic Counseling Graduate Program," says Jill Goldman, MS, CGC, a genetic counselor at Columbia's Taub Institute and a member of the program's faculty. The scholarship honors Alice and Roger Steinhardt (a counselor and a physician) and is for students who have overcome substantial obstacles to pursue life goals and have already shown academic merit and a commitment to genetic counseling.
Ma was born in southern China and immigrated to New York City at age 10. She speaks three dialects of Chinese and is the first in her family to attend college. After graduating with a bachelor's degree in biology from Cornell University in 2017, she took a job as a research coordinator and genetic counseling assistant at the Center for Neurogenetics at Weill Cornell Medicine. 
"I was 12 the first time I met a genetic counselor and was accompanying a family member for an appointment," she says. "I remember the experience being pleasant and we communicated by using a phone interpreter. After that appointment, I wondered if there were any bilingual genetic counselors available. I did some online research and couldn't find any in my area. 
"Ever since then, my interest in the field grew as I learned more by speaking to and shadowing genetic counselors. I hope to combine my multilingual skills with my passion for genetic counseling to expand care to non-English speaking families."
The application process for admission to the graduate program in 2020 will open in September 2019.
Read about the program: ps.columbia.edu/gc-program