Columbia Vaccinates Hundreds at Community Pop-Up Vaccination Site in Harlem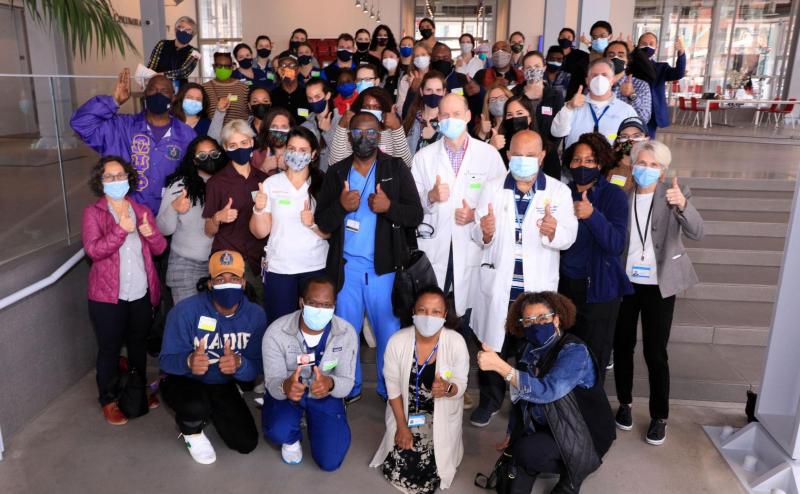 Hundreds of New Yorkers from Harlem, Northern Manhattan, and Morningside Heights were vaccinated in Manhattanville over four weekends since early April at a Columbia Community Pop-up Vaccination Site organized by Columbia University's Community Wellness Center and ColumbiaDoctors.
The events over the four weekends vaccinated 700 New Yorkers.  
In New York City, Black and Latino residents are getting vaccinated at much lower rates than other groups. According to recent statistics from New York City's health department, 24% of Blacks and 28% of Latinos have received one shot, compared with 41% of whites and 56% of Asians.   
The vaccination effort is being led by doctors from the Columbia Community Wellness Center, located in the Jerome L. Greene Science Center on Columbia's Manhattanville campus, and Columbia University Irving Medical Center's Office of Community Service Programs. The pop-up site was made possible through partnerships between Columbia University and multiple public and private health care providers.
The Wellness Center at Columbia University is led by Olajide Williams, MD, professor and chief of staff of neurology, and Sidney Hankerson, MD, assistant professor of psychiatry, physicians at Columbia University Vagelos College of Physicians and Surgeons known for their pioneering approaches to improving public health in Harlem and Washington Heights. 
References
Columbia Community Wellness Center is located on the ground floor of the Jerome L. Greene Science Center and provides health resources to area residents. ColumbiaDoctors host community-based initiatives that train members of the Harlem community to become health advocates to prevent stroke and promote mental health. The center also provides free cholesterol and blood pressure screenings, health insurance enrollment, weight counseling, and other services.