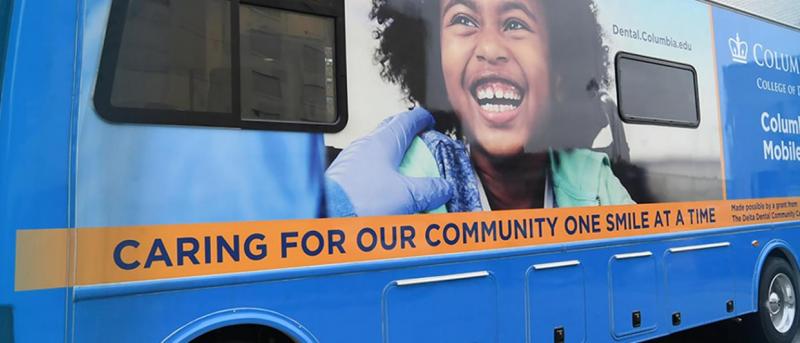 Columbia Unveils New Mobile Clinic for Community Dental Care
Columbia's mobile dentistry program is back and ready to deliver health screenings and low-cost dental care to residents of Northern Manhattan and the Bronx.
On Nov. 12, officials and community leaders joined leaders from Columbia University at its Manhattanville campus in West Harlem to celebrate the debut of the new Mobile Dental Center operated by Columbia's College of Dental Medicine (CDM).
The new mobile center—a modern, movable clinic—will travel to Head Start centers, schools, senior centers, and other partner sites in CDM's Community DentCare Network. The clinic will primarily serve patients in Washington Heights, Harlem, Inwood, and the South Bronx, many of whom have limited access to health care.
"With the mobile clinic, we're able to conduct exams and facilitate referrals and treatment for the people who need it most and who probably would have difficulty getting to our brick-and-mortar clinics. It's a tremendous tool to allow us to promote oral health and to treat our most vulnerable patients in those areas," says George Jenkins, DMD, MHA, assistant professor of dental medicine and associate dean for access, equity, and inclusion at CDM.
After the ceremonial ribbon cutting, event attendees had the opportunity to explore inside the mobile clinic, which features two dental chairs, X-ray equipment, a reception and health education area, and a wheelchair lift. The facility is designed to serve as an extension of the Center for Precision Dental Medicine, CDM's state-of-the-art teaching clinic.
"The Delta Dental Community Care Foundation and Columbia University College of Dental Medicine share a common mission of providing greater access to oral health care and helping the people and communities we serve lead healthier lives," says Kenzie Ferguson, vice president of foundation and corporate social responsibility for Delta Dental of California. "The Foundation is proud to fund the Mobile Dental Center, which will be particularly beneficial to children and senior adults who are often the most overlooked when it comes to receiving the vital dental care and oral hygiene guidance they most need."
The new Mobile Dental Center replaces and improves upon the school's previous mobile clinic, now decommissioned. CDM purchased the new vehicle with a grant from the Delta Dental Community Care Foundation; the funds are among more than $70 million that the Foundation has donated since 2011 to projects that advance access to oral health care for disadvantaged children and adults across the United States. The Delta Dental Community Care Foundation is the philanthropic arm of Delta Dental of California.
A bright blue bus emblazoned with photos of smiling children, the new Mobile Dental Center reflects CDM's rejuvenated DentCare program, which runs the mobile clinic and other initiatives to improve access to oral health in the community. CDM faculty, hygienists, and trainees have completed more than 150,000 patient care visits through the DentCare program since its inception in 1996. DentCare suspended most operations in 2020 due to the COVID-19 pandemic and moved to telehealth services for some of the hardest-to-reach populations, such as homebound patients in Northern Manhattan area. This fall the program has begun resuming its wider net services.
In addition to offering care in the mobile clinic, DentCare provides local seniors with health screenings, workshops, and referrals through an initiative called ElderSmile. Several new programs to deliver cross-disciplinary health care to the young and the vulnerable elderly are in development by the DentCare team in collaboration with Columbia's nursing and medical schools, NewYork-Presbyterian's Ambulatory Care Network, and the faith-based organization ArchCare.
To integrate care effectively, CDM has added a new role to the DentCare team: the community dental health coordinator, a position established through a second grant from Delta Dental and in partnership with the New York State Dental Association. The coordinator facilitates connections among patients, providers, community health centers, and other social service agencies to better support patients with a range of health needs; directly performs certain oral health services; and works to strengthen DentCare's relationships with an array of community partners.
"CDM's DentCare program has left an indelible mark on this community over its 25 years of service. The COVID-19 pandemic further illuminated the impact of social determinants of health and the disparities that continue to persist in marginalized communities," says Biana Roykh, DDS, MPH, associate professor of dental medicine and senior associate dean for clinical affairs at CDM. "The new mobile dental center is a testament to Columbia's ongoing and deepened commitment to help bridge this health divide, and we are fortunate to have partnerships that enable us to pursue our mission of service learning, responsiveness to community needs, and scientific scholarship with community-based participation."
References
More information
About the College of Dental Medicine
Founded in 1916, Columbia's College of Dental Medicine is a leader in applying clinical, research, and public policy approaches to oral health issues. Its Center for Precision Dental Medicine is at the forefront of providing personalized dental services, with state-of-the-art dental chairs for patient care and instruction, simulation training equipment, and technology to advance data sciences. The college is also the largest provider of primary and specialty oral health care in the Northern Manhattan communities of Harlem, Washington Heights, and Inwood.
Visit the Community DentCare Network website to learn more about its services, including the Mobile Dental Center.