Columbia University Medical Center Opens Midtown Outpatient Center
New York, NY – ColumbiaDoctors Midtown has officially opened its doors with a ribbon-cutting by leadership of Columbia University and NewYork-Presbyterian Hospital and ColumbiaDoctors physicians, dentists, and nurse practitioners. The location puts many of the city's top doctors from New York's No. 1 academic medical center in the heart of Midtown, at 51 West 51st St., between Fifth and Sixth avenues.
ColumbiaDoctors is the medical practice comprising faculty of Columbia's College of Physicians and Surgeons, College of Dental Medicine, and School of Nursing. More than 225 physicians, dentists, and nurse practitioners offer comprehensive medical services, including cardiology, executive health, pre- and post-surgical care, psychiatry, radiology, travel medicine, and women's health, as well as laboratory services at the new Midtown location.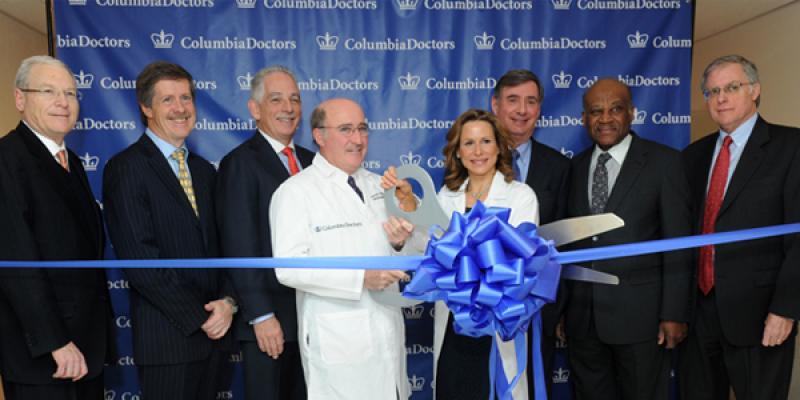 Designed for the convenience of patients, ColumbiaDoctors Midtown offers coordinated appointments for those seeing multiple specialists, comfortable waiting areas, and ample natural light. Services are available from early morning to evening and on Saturdays. There is shuttle service between ColumbiaDoctors Midtown and NewYork-Presbyterian/Columbia University Medical Center in Washington Heights.
Easily accessible via foot, car, and mass transit, the new facility is adjacent to Rockefeller Center and a short distance from the Port Authority Bus Terminal, Penn Station, and Grand Central Terminal. Discounted valet- and self-parking is available.
"People come from throughout the Tri-State area, and even beyond, to see Columbia doctors. The new ColumbiaDoctors Midtown makes it even easier—for both our existing patients and our new ones— to be cared for by our renowned experts," said Lee Goldman, MD, dean of the faculties of health sciences and medicine and executive vice president for health and biomedical sciences, Columbia University Medical Center.
The practice was formerly called ColumbiaDoctors Eastside and located at 16 East 60th St. The need to expand and establish a larger presence in Midtown fueled the move to 51st Street. The new location is expected to serve at least 20 percent more patients per year. The facility has approximately 125,000 square feet and 125 exam rooms. In addition to the 225 healthcare professionals who practice at the Midtown location, patients have access to the entire 1,200-member ColumbiaDoctors multi-specialty practice and its locations in New York City, Westchester, and throughout the Tri-State area.
ColumbiaDoctors accepts most insurance plans. More information is available at columbiadoctors.org or by calling 212-326-8500.
###
Columbia University Medical Center provides international leadership in basic, pre-clinical, and clinical research; medical and health sciences education; and patient care. The medical center trains future leaders and includes the dedicated work of many physicians, scientists, public health professionals, dentists, and nurses at the College of Physicians and Surgeons, the Mailman School of Public Health, the College of Dental Medicine, the School of Nursing, the biomedical departments of the Graduate School of Arts and Sciences, and allied research centers and institutions. Established in 1767, Columbia's College of Physicians and Surgeons was the first institution in the country to grant the MD degree and is among the most selective medical schools in the country. Columbia University Medical Center is home to the largest medical research enterprise in New York City and State and one of the largest in the United States. Its physicians treat patients at multiple locations throughout the tri-state area, including the NewYork-Presbyterian/Columbia campus in Washington Heights, the new ColumbiaDoctors Midtown location at 51 W. 51st St. in Manhattan, and the new ColumbiaDoctors Riverdale practice. For more information, visit www.cumc.columbia.edu or columbiadoctors.org.
MEDIA CONTACTS:
Karin Eskenazi: ket2116@columbia.edu, 212-342-0508
Stephanie Christopulos: sc3589@columbia.edu, 917-656-5166