Columbia Students Exchange Pandemic Experiences with International Peers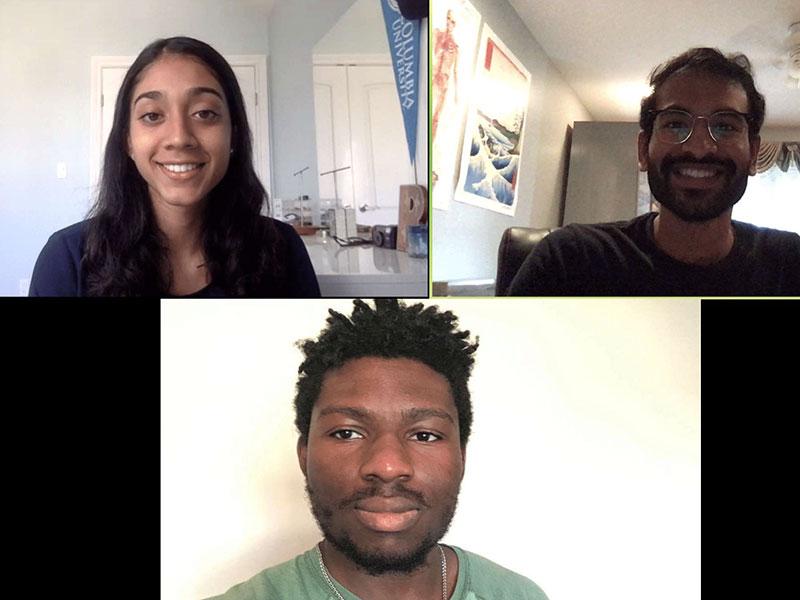 This summer, 70 students from 12 universities across the world—including 16 medical, dental, and premedical students from Columbia University—are sharing their COVID-19 experiences virtually via the "International Collaboration and Exchange Program – Preparing Global Leaders for Healthcare." The eight-week online summer exchange program aims to deepen intercultural competency and leadership in students. Content currently focuses on COVID-19, especially as it relates to research, and includes scientific lectures given by faculty as well as international student group discussions.
"The program provides students with a framework for international peer and faculty networking and with a rare opportunity to have an international exchange about a global pandemic of historical dimensions," says Anette Wu, MD, PhD, MPH, director of the exchange program and assistant professor in the Department of Pathology & Cell Biology at the Vagelos College of Physicians and Surgeons.
The exchange program launched in 2014 in the Department of Pathology & Cell Biology to offer medical, premedical, and dental students early international experiences, both in person and online, throughout the school year. The summer portion of the program typically includes in-person travel exchanges, but the pandemic prevented such travels this year. Instead, Columbia students are meeting virtually with their counterparts at universities in Austria, Canada, Japan, Taiwan, and other countries for online small group discussions and presentations via Zoom from faculty followed by Q&As led by student moderators.
Columbia medical student Adedeji Adeniyi is one of six moderators. In college, Adeniyi received a Fulbright Scholar Award to teach English in Taiwan and had hoped to expand his experiences in the country this summer. The pandemic upended those plans, but connecting through the exchange program with students and faculty members from the National Taiwan University was the next best thing.
"The exchange program has fostered the means to remain connected," says Adeniyi. "Having the opportunity to network, collaborate, and share ideas with medical and dental students across the globe has been a transformative experience by preparing us to be global health care leaders. As a moderator, I've enjoyed coordinating and overcoming the challenges of organizing this program during the pandemic and have appreciated Dr. Wu's mentorship."
Columbia dental student Vinay Maddula is another moderator who works with Adeniyi to ensure online meetings run smoothly and to troubleshoot any technological glitches. 
"My work as a moderator of the program allows me to collaborate as well as provide a platform where students can reflect on challenges experienced on a global stage, all the while staying safe and healthy at home," says Maddula. "Connecting with people I would have never had the chance to meet is extremely rewarding. We all have a collective struggle in navigating medical and dental school through this pandemic."
For undergraduate students contemplating medical school in the future, the international exchange is an opportunity to learn more about their future career path. "The program allows us to reflect on how the pandemic has affected our individual lives and our larger interconnected society," says Columbia College premedical student Radhika Patel, who is also in the Laidlaw Undergraduate Research and Leadership Scholarship Program. "In studying different health care systems, I learned what global health crises require of those in the medical field, including cultural competency, innovation, and collaboration as necessary skills. By connecting in small groups and as an entire cohort, our conversations gave me a better understanding of how we can care for one another as individuals in the medical field but also as humans facing the same challenges, regardless of where we are."