Columbia Stem Cell Labs Open Doors to Next Generation of Scientists
Columbia stem cell researchers opened up their labs last month to 20 8th to 10th grade girls to inspire the next generation of female scientists. 
"I think the most meaningful part of the day for me was when I saw the girls in lab coats and gloves, asking questions about the scientific experiments they just did or chatting about career choices," says Barbara Corneo, PhD, associate professor of rehabilitation & regenerative medicine and director of the Columbia Stem Cell Core, who co-hosted the event with Joanna Smeeton, PhD, the H.K. Corning Assistant Professor of Rehabilitation & Regenerative Medicine at Columbia University Vagelos College of Physicians and Surgeons. 
"This is why we held the event, to stimulate their minds and excite them about stem cells and science. We want them to know we were here not only on that day, but anytime they will need us in the future." 
The girls attend school in Monmouth County, New Jersey, and participate in extracurricular STEM programs at STEAMpark, a nonprofit organization that provides free educational workshops and summer camps for children from low-income communities. 
STEAMpark educators have found that after a certain age, girls start to associate science, engineering, and computer coding with boys. "We feel strongly we need to start early to maintain girls' interest; 11th grade is too late," says Leigh Dym, the organization's founder and executive director. 
Providing girls with experiences in real laboratories with working scientists is crucial, Dym adds. "This is not blackboard learning; hands-on experiences really work, and the kids can see that there are people out there who will embrace them." 
Corneo and Dym connected with the help of Vibha Jawa, PhD, at Bristol Myers Squibb and Lauren Nardini Branco at ThermoFisher Scientific and organized the field trip to the Columbia Stem Cell Initiative (CSCI), a community of stem cell scientists at Columbia University Irving Medical Center. 
During the field trip, the girls learned how to pipette, prepare gels to visualize DNA fragments, and use a microscope to look at cells collected from their own cheeks. They saw stem cells transforming into brain and heart cells. They visited the zebrafish facility to learn how fish are used to study arthritis and heard how members of the lab became scientists.
"Throughout the day the students asked great questions and their enthusiasm was infectious. It was a joy for our volunteers to share their love of science and discovery as well as the story of their own unique and personal paths into research," Smeeton says. "Hopefully the day will be a part of one of our visitors' future career stories." 
Along with additional CSCI outreach initiatives, Smeeton and Corneo are planning to make the field trip a yearly event.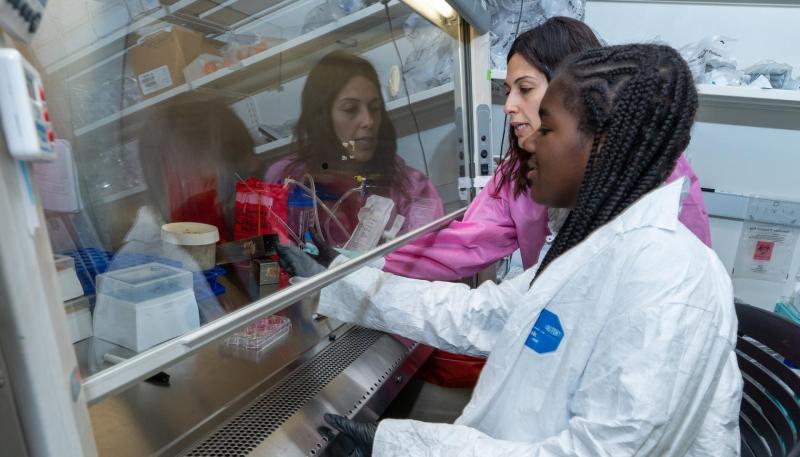 References
The following CSCI trainees and colleagues volunteered during the event:
Ernesto Gagarin, Desmarie Sherwood, Julia Mo, Maria Blumenkrantz, Alex Junker, Zane Alami-Nassif, Jenny Perez Bruno, Brandon Wright, Sohyun Kang, Jamila Martin, Juan Idiarte, Grazia Iannello, Dario Sirabella, Ekaterina Lebayle, and Hemanta Sarmah.