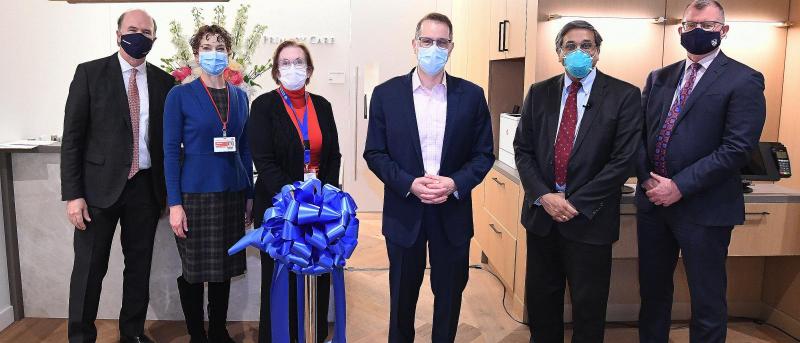 Columbia Primary Care Celebrates New Location on Manhattan's Upper West Side
Columbia Primary Care's latest practice location in the Manhattan Valley neighborhood of the Upper West Side marks an important milestone in the expansion of Columbia's primary care enterprise.
On Friday, Nov 13, the practice welcomed limited guests for a socially distanced ribbon-cutting ceremony. Leadership team members from CUIMC and NewYork-Presbyterian Hospital offered remarks for guests in attendance and viewers watching via livestream. Councilman Mark Levine, who represents the 7th district of Manhattan in Northern Manhattan, also provided remarks.
The new facility and its staff are well-positioned to meet patients' needs and will make seeking quality care easier than ever. The practice will offer same-day appointments, robust telehealth options, and access to Columbia's world-class network of more than 2,000 medical specialists. It is scheduled to open this week and patients can book appointments now.
"This event is a reflection of the deep and longstanding partnership between NewYork-Presbyterian and Columbia University," said Anil Rustgi, MD, interim executive vice president and dean of the faculties of health sciences and medicine at CUIMC. 
"Together, our partnership underscores the importance of primary care medicine," Rustgi said. "We want to take care of our residents in the neighborhood and beyond, in all types of primary care."
Donna Lynne, DrPH, senior vice president and chief operating officer of Columbia University Irving Medical Center and chief executive officer of ColumbiaDoctors, thanked everyone whose hard work brought the new location to life. She commended the contributions of David Buchholz, MD, senior founding medical director for primary care at Columbia.
"When we recruited [David], our goal was to build state-of-the-art facilities and recruit top primary care doctors to open up primary care in this neighborhood and subsequently in other neighborhoods," she said, noting that the new facility marks a major step in bringing that goal to fruition. "We are really excited to bring this state-of-the-art facility into the community and to connect you with all of our great Columbia and NewYork-Presbyterian specialists."
Located at 2702 Broadway on the corner of Broadway and 103rd Street, the new facility includes eight examination rooms equipped with cutting-edge medical equipment, including telemedicine capability in every room, digital signage throughout the practice, and video interpreter services. It is staffed by a multidisciplinary team of pediatricians, family physicians, internal medicine physicians, and nurse practitioners.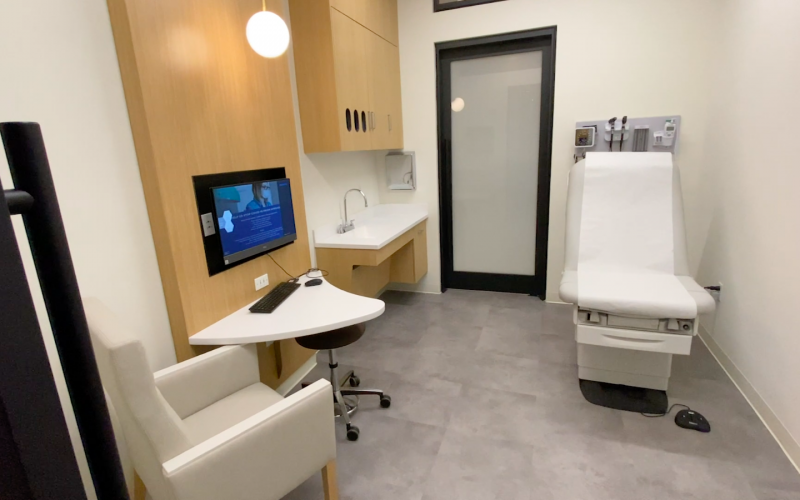 Laureen Hill, MD, senior vice president and chief operating officer at NewYork-Presbyterian/Columbia University Irving Medical Center, spoke to a challenging year in health care and how primary care will help Columbia meet the challenges still ahead.
"This is really a space created to meet the way that the practice of medicine is transforming in the year 2020," Hill said. "It's really a shift in focus to outpatient care, it's a focus on value and providing the kinds of outcomes that matter to our patients. It is about reaching patients where they are, where they live. Being here in this community and for the residents of this community is so very important."
"This horrible pandemic has taught us that the profound inequality of underlying conditions has to be addressed by expanding access to primary care," Councilman Levine said. "This is the way we are going to achieve greater equality of health outcomes in New York City.
"I celebrate the opening of this facility as a way to draw in new patients who may not have otherwise gotten advanced care," he added. "This is going to be a really important facility for this neighborhood."
Buchholz, speaking to the CUIMC Newsroom, spoke to the importance of having a primary care doctor, especially during a pandemic.
"One of the strengths of primary care is that we develop relationships with our patients. We get to know them well—not just their physical well-being, but their mental well-being, and how they relate to society and their families," Buchholz said.
Primary care doctors not only see patients when they are ill; they anticipate issues and help catch disease early when it's most treatable. Primary care also helps patients coordinate their care and reduce health care costs by reducing the risk of things like duplicated labs and frequent office visits. "Having a primary care provider means having somebody who is thinking of you and your health even when you're not in our office, even when you're not sick," Buchholz said.
Beyond Manhattan Valley, the future of Columbia Primary Care involves planned expansions to better serve communities throughout the city and Westchester County.
"This is the first of many," said George "Jack" Cioffi, MD, president of ColumbiaDoctors. "You have to come see this facility. It is the first of many; it is our first step. I think you'll be amazed."