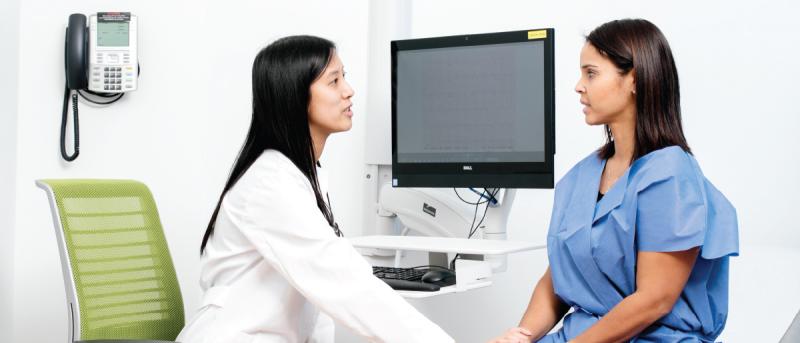 Columbia Nurse Practitioners Meeting Unmet Needs of Patients
Columbia University's Nurse Practitioner Group is pioneering new ways to meet the diverse needs of its patients. As the faculty practice of Columbia University School of Nursing, it is already recognized as one of the nation's top institutions and leaders in advancing and delivering patient care. 
Nurse practitioners (NPs) play a critical role in achieving a continuum of care for patients; they are instrumental in both the delivery of primary care services and coordinating services from specialists when necessary. Ultimately, by connecting the dots between primary care and specialists, NPs help ensure health care delivery is integrated over time and providers. 
Recently, the Nurse Practitioner Group's work has expanded in ways critical to serving the diverse needs of patients.  
Telehealth is now available so that providers can consult remotely with patients who may not require in-office visits, as appropriate. A palliative care model also became integrated through the practice, whereby patients who are at high risk for hospitalization are identified and offered personalized symptom management from the NPs to help manage their overall health and reduce unnecessary hospitalizations.
"These programs demonstrate our commitment to provider accessibility and keeping the doors of communication between providers and patients open," says Stephen Ferrara, RN, DNP, FNP-BC, associate dean of clinical affairs at Columbia Nursing. 
The Nurse Practitioner Group also started offering comprehensive in-home primary care for home-bound patients in the Washington Heights and Inwood neighborhoods who are unable to leave their homes due to health issues. 
"Providing house calls for home-bound patients in our community speaks to our commitment to offering top-quality health care to those historically underserved by medical institutions and fulfills an important community need," says Ferrara. "We know ultimately that people who do not have access to health care tend to be sicker and there are things we can do to help prevent complications or hospital readmissions." 
Since launching in May 2017, this service has made 593 visits to 112 patients in the Washington Heights and Inwood neighborhoods. 
The Nurse Practitioner Group providers also have expertise in LGBT health and work together with individuals and families to develop comprehensive and personalized health plans, integrating primary care and behavioral health services. The primary care services include transgender health care, such as hormone therapy, and HIV pre- and post-exposure prophylaxis (PrEP and PEP).
References
More Information
The Nurse Practitioner Group is comprised of 12 NPs in three locations: 516 W. 168th St., 51 W. 51st St., and 30 Rockefeller Center.
For appointments with the Nurse Practitioner Group, call (212) 326-5705.