Columbia Names Interim EVP/Dean at Medical Center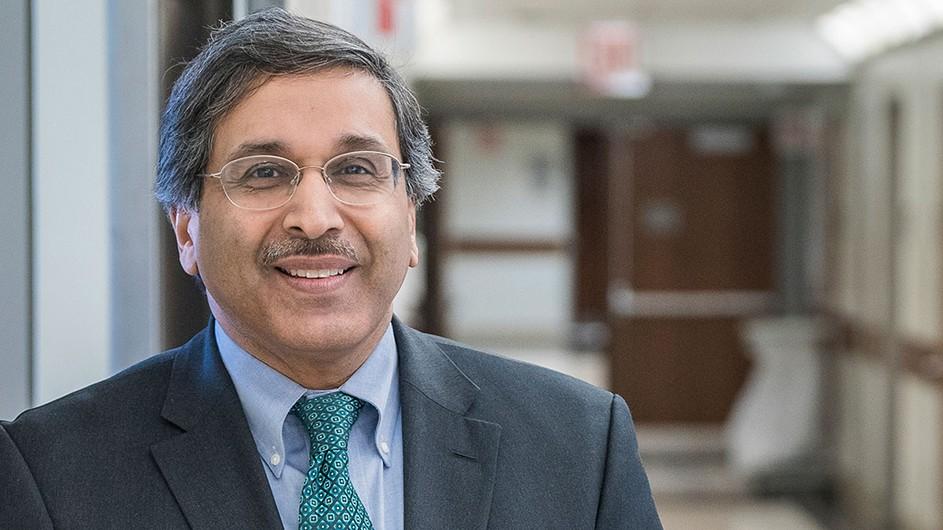 On April 8, Columbia University President Lee Bollinger announced the appointment of Anil Rustgi, MD, director of the Herbert Irving Comprehensive Cancer Center, as interim EVP and dean, effective July 1, 2020. 
Lee Goldman, MD, who has served as executive vice president, dean of the faculties of health sciences and medicine, and chief executive of Columbia University Irving Medical Center for the past 14 years, announced plans in May 2019 to step down from his executive roles as of June 30, 2020.
Below is President Bollinger's announcement.
---
Dear fellow members of the Columbia community:
I am writing to announce that, when Dr. Lee Goldman completes his term on June 30, 2020, I have asked our colleague Dr. Anil K. Rustgi to step in and serve as the Interim Executive Vice President and Dean of the Faculties of Health Sciences and Medicine, and he has generously agreed. With Lee's help and guidance, we will have had three months to prepare for this transition, and then Lee will continue to serve as a special advisor for Anil as we move into the next academic year. Of course, I and the rest of the University administration will be deeply involved and supportive as well, even more so during this difficult time, with the challenges that confront us with COVID-19. I applaud, again, the tireless and dedicated work of our physicians, nurses, health care providers, and staff, along with our researchers and educators, at Columbia University Irving Medical Center and NewYork-Presbyterian/Columbia University Irving Medical Center and its affiliates.
Let me say a few words about the search process. As you know, last fall I convened a search committee to recommend candidates for this position. I chaired the committee and we met regularly through the fall and into the current semester. From my perspective, it was a wonderful committee and the process was as thorough and considered as possible. Yet, for a number of reasons that I won't elaborate on here, by the end I did not feel ready to make an appointment. This often happens in searches at this level, and my policy has always been never to feel constrained by the calendar but only by the sense that the appointment at the right moment is the best possible outcome. That is where we are and, so, our search will continue on (with the same committee). I am completely confident in the outcome, even though it may take a little longer.
I want, again, to take this occasion to thank Lee Goldman, an exceptional leader, physician, investigator, educator, and mentor. If we use the measure of leadership that the institution is better now than it was at the outset, Lee has done an outstanding job. The several schools—both individually and as a whole—are clearly stronger than ever (even at this moment of crisis). I and we are deeply grateful to Lee for his remarkable dedication and service these nearly 14 years, which we will honor in the post-COVID-19 period.
Finally, I want to recognize and thank Anil, a physician-scientist, teacher, and mentor, for assuming this important role. I do not think I have ever seen anyone more quickly become so integrated into and integral to an institution than Anil has with us at Columbia. He has naturally connected with everyone and every part of the University and provided exemplary leadership since joining us some 15 months ago, as the Director of the Herbert Irving Comprehensive Cancer Center; Irving Professor of Medicine and Associate Dean of Oncology at the Vagelos College of Physicians and Surgeons; and Chief of Cancer Services at NewYork-Presbyterian/Columbia University Irving Medical Center. He will retain these titles and responsibilities. This is now his base within the University, and he and I understand that we need to preserve and build on that foundation while he also takes on this role. Working closely as I have with Anil over this time, I am sure this will happen. I am also sure he will help guide us through this next period with collaboration, collegiality, and compassion, working closely with each health professional school (the Vagelos College of Physicians and Surgeons and its multiple clinical and basic departments, centers, and institutes; the Mailman School of Public Health; the School of Nursing; and the College of Dental Medicine) and with NewYork-Presbyterian Hospital leadership, including Dr. Steven J. Corwin, President and CEO, and especially their collective faculty, trainees, and staff.
Please join me, as a University, in thanking and congratulating Lee Goldman and showing our support to Anil Rustgi.
Sincerely,
Lee C. Bollinger