Medical Center Students Find Ways to Volunteer
Students from Columbia University Vagelos College of Physicians and Surgeons have formed the COVID-19 Student Service Corps, or CSSC, to help fellow health professionals during the global COVID-19 pandemic. The medical students have been joined by students from Columbia's Mailman School of Public Health, School of Nursing, and the College of Dental Medicine.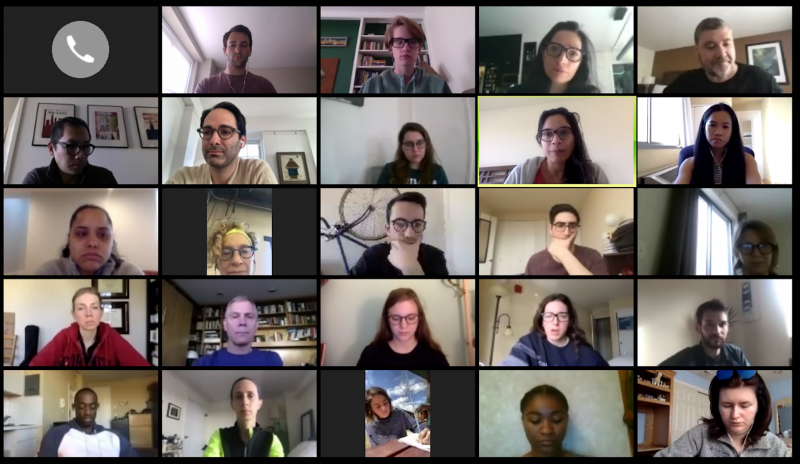 "It was clear that students were itching for the chance to join the fight against COVID and were willing to contribute in any capacity they could," CSSC co-chair Sarah Soo-Hoo told Columbia News. Clinical rotations for CUIMC students were suspended in March and classes were moved online.
The students are working to support health care systems, patients, and communities during the pandemic by staffing a community information line and creating a PPE task force to organize procurement, donation, and manufacturing of personal protective equipment. Student researchers are also volunteering in CUIMC laboratories engaged in COVID-19 projects.
Fielding 1,600 hotline calls
By early April, students staffing the community hotline were fielding more than 1,600 calls a day, many from individuals who had been referred by their health care providers. CSSC also partnered with departments across Columbia University Irving Medical Center to check on recently discharged patients to determine if they required follow-up care.
The group has released a toolkit for other academic medical centers interested in building their own CSSC chapters. More information is available by writing to cssc@cumc.columbia.edu or by following the group on Twitter @ColumbiaCSSC and @CSSCNational.
Nursing students on the front line
More than 200 Columbia Nursing students are now helping out on the COVID-19 front lines.
"The decision to allow our students to work with COVID-19 patients was not an easy one," said Dean Lorraine Frazier. "But there were students who felt strongly about assisting infected patients, and our faculty felt they were ready, knowing that they would be supervised by a registered nurse."
Many students are working as nurse technicians throughout the NYP/CUIMC system in "float pools" and are assigned daily to whichever floor, including ICUs and step-down units, needs the most help. For students not involved in direct patient care, other opportunities exist, such as volunteering or answering questions on various hotlines. Read the full story on the School of Nursing website.
Delivering PPE
Another group of students at CUIMC, including dental, medical, and public health students, formed in March to raise funds to supply health care workers around the city with personal protective equipment (PPE). 
Their GoFundMe campaign "Mask On, March On!" has raised nearly $12,000 and delivered more than 10,000 pieces of PPE to several hospitals in COVID-19 hotspots in New York City. 
Musical Mondays
The VP&S Musicians' Guild continues to offer "Musical Mondays" every week at 7:15 p.m. ET through Zoom and the Musicians' Guild Facebook page. Concerts feature both live and pre-recorded musical pieces performed by CUIMC students, faculty, and staff.
"Our mission is to deliver musical respite and comfort during the COVID-19 pandemic to the CUIMC community at large," says Erika Mitsui, a first-year medical student and co-leader of the Guild.
"During moments of crisis, fear, and sorrow, music can play an important role in healing spiritually and emotionally at both an individual and communal level. While social distancing measures drive us apart physically, we believe that technology and music can help bridge those distances to provide comfort and hope in an uncertain time."