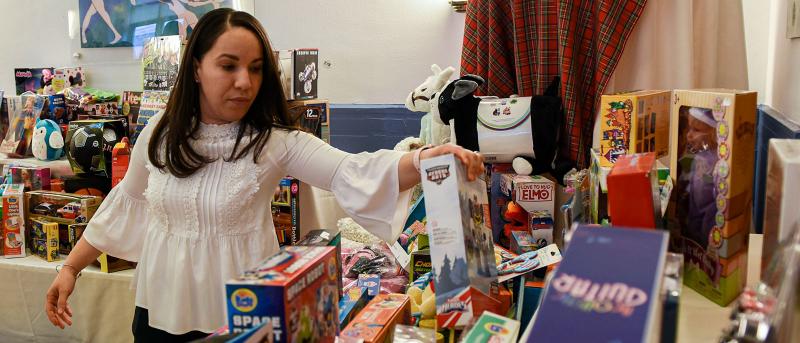 Columbia Employees Celebrate Holidays with Toy Donations and Gingerbread House Contest
Highlights of a Dec. 13 holiday breakfast hosted by CUIMC Chief Executive Lee Goldman, MD, included the debut of a gingerbread house building contest and the annual toy drive, which collected hundreds of gifts for neighborhood children. 
On display at the breakfast were several whimsical gingerbread houses made by department and office teams. Gingerbread house-making kits were distributed in advance of the event and colleagues showed their creative flair in building and decorating their creations in two categories: classic gingerbread house and representation of office, role, or function at CUIMC. A panel of volunteer judges chose winners: 
Classic Gingerbread House 
1st Place: CUIMC Finance Office/Controller/Budget/Payroll 
2nd Place: ColumbiaDoctors/CMIO and Intentional Redesign 
3rd Place: CUIMC Housing and Campus Operations 
Representation of the Office, Role, or Function at CUIMC
1st Place: CUIMC Facilities/Finance
2nd Place: CUIMC Facilities/Capital Projects Management 
3rd Place: CUIMC Facilities/Engineering
View photos of the gingerbread entries and more in our photo gallery:
  
The Office of Government and Community Affairs will distribute the donated toys—a total of 450 gathered at the event—to neighborhood organizations.