Columbia Celebrates 25th Anniversary of White Coat Ceremony
The Columbia community welcomed 140 members of the Vagelos College of Physicians and Surgeons (VP&S) Class of 2022 at the White Coat Ceremony on Aug. 13. At the annual event, which marks its 25th anniversary this year, new students are cloaked in white coats and recite the Hippocratic Oath for the first time in the presence of their families and friends.
More than 4,000 Columbia medical students have been through the White Coat Ceremony since it was founded at VP&S in 1993 by the late Arnold P. Gold, MD, professor of clinical neurology and clinical pediatrics, to reinforce a strong commitment to humanistic practice. He also founded the Arnold P. Gold Foundation, which has been central in developing programs that support the education and training of humanistic health care professionals.
According to the Arnold P. Gold Foundation, a White Coat Ceremony or similar ritual takes place today at 99 percent of U.S. medical schools accredited by the Association of American Medical Colleges (AAMC), medical schools in 19 other countries, more than 310 schools of nursing, and several physician assistant programs.
Darrell G. Kirch, MD, president and CEO of AAMC, spoke at this year's ceremony.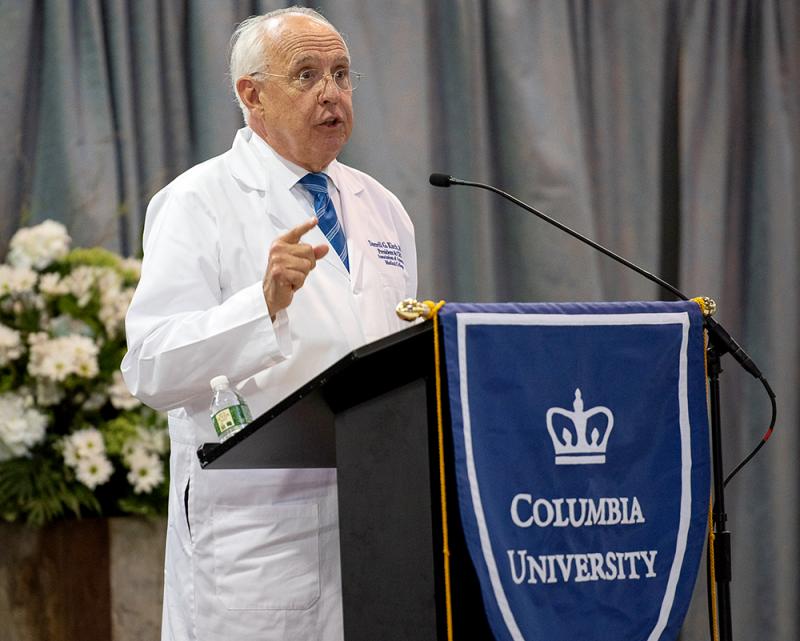 "I want to look out at a confident, empathetic, ethically grounded physician that I can trust," said Dr. Kirch. "This institution will put you well on your path to becoming that person."
Students also heard remarks by Lee Goldman, MD, the Harold and Margaret Hatch Professor, dean of the Faculties of Health Sciences and Medicine, and Chief Executive of Columbia University Irving Medical Center; Lisa Mellman, MD, senior associate dean for student affairs; and Laura Forese, MD, executive vice president and chief operating officer of NewYork-Presbyterian Hospital.
VP&S Class of 2022 statistics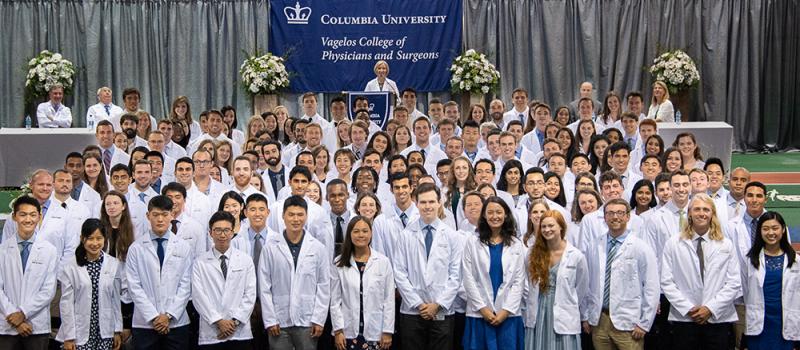 The VP&S Class of 2022 includes 10 students enrolled in the Columbia-Bassett Program, a track launched in 2010 that combines traditional medical education in New York City with hospital-based outpatient and inpatient clinical education at Bassett Medical Center in Cooperstown, N.Y.
Nineteen percent of the entering class belong to groups underrepresented in medicine, and 45 percent are women.
In addition, 11 students have entered the MD/PhD dual degree program, which trains physician-scientists, and three students entered the accelerated three-year PhD-to-MD program.
Members of the Class of 2022 come from 28 states and 10 foreign countries.