This Clinic Gets Men to the Doctor
June is Men's Health Month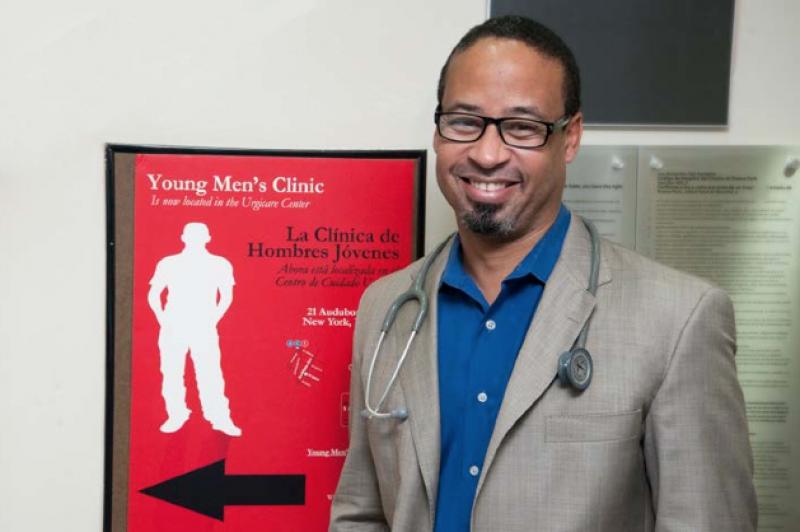 The two adjoining waiting areas in NewYork-Presbyterian Hospital's Audubon Practice are identical—with gray-green benches and linoleum floors—but the patient groups that use them are not. On one side, the Family Planning Practice provides gynecologic, obstetric, and wellness visits to adolescent girls and women, while the Young Men's Clinic on the opposite side provides care to boys and men aged 14 to 35. Both clinics have as their main mission sexual and reproductive health, but because men don't think of family planning as welcoming, says Young Men's Clinic Medical Director David Bell, MD, it's important to have a practice that's dedicated to them and includes "men" in the name of the service. "It says, 'We are for you,'" Dr. Bell explains. Once men walk through the doors, he and his colleagues—Silvia Amesty, MD, a family medicine doctor, and nurse practitioner Melba Perry, NP—can usually engage male patients in discussions not only about their sexual health, but also about their overall health, an important step for men who may not have visited a primary care doctor in years.
The clinic offers a varied menu of services: general health care and treatment for minor injuries and illness; physical exams for sports, school, and work; counseling for stress, relationship issues, and other health concerns; referrals for educational and vocational services; and sexual and reproductive health care, including counseling and testing for sexually transmitted infections and HIV.
The clinic's patients are mostly Dominican and from Washington Heights, but men also come from Queens, Brooklyn, the Bronx, occasionally from Staten Island, and even Connecticut for care. "We know that guys stop going to the primary care doctor after the age of 15 as a whole, while females increase their primary care visits at that age. But at a certain point, men become concerned about their health, particularly their sexual and reproductive health," says Dr. Bell.
Many patients' initial visit is about a sexually transmitted infection (STI). At the older end of the age range, Dr. Bell and his colleagues also see men who are beginning to worry about their fertility. "They are trying to have kids and they can't," he says.
In the primary care and public health community, there's a growing focus on young men and their health care needs, Dr. Bell says, and the clinic, part of NYP's Ambulatory Care Network, is looked at as a model. "More and more people, particularly those involved in sexual and reproductive health, are talking about young men," he says. "There is much more interest in engaging them in taking a proactive role in their health, but there aren't many health care programs that really know how to connect to them."
Last year, members of the Centers for Disease Control and Prevention's Teen Pregnancy Prevention Program visited the clinic to learn about its practices and programs. "The CDC is really on board and is trying to elevate the inclusion of males in sexual and reproductive health," Dr. Bell says. "They recognized the value of the overall, comprehensive model of care. I also told them the clinic space isn't what matters; it is really about how you engage with the guys."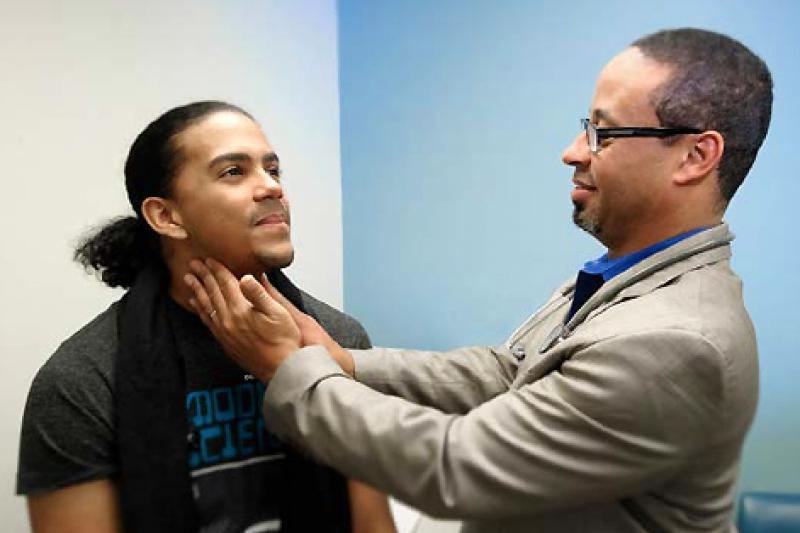 While there's a general conception that men are uncomfortable talking about intimate matters, "there is no such thing as a young man who won't open up," Dr. Bell asserts. "It's just that the place and time need to be right, and the person talking with them should be open and genuinely concerned. It's also important that we providers get more comfortable talking with them about sex and about their attitudes and behaviors regarding condoms, being safe, and maintaining positive healthy relationships. We can't just preach condom use."
One of the major reasons there aren't more programs geared to young men is a lack of funding. "Adolescents and young adults in under-served communities are the group least likely to have insurance, so funding has to come from some other entity," Dr. Bell says. The Young Men's Clinic is part of NYP's family planning program, which is federally funded through Title X, a family planning program, and through a grant from the Robin Hood Foundation. The Affordable Care Act also has helped boost the number of young men with insurance from about 24 percent to 32 percent, he says.
Current sexual and reproductive health guidelines don't support overall screening of men—another reason for the scarcity of care directed to them. "We have clinical guidelines to screen all women under the age of 26 for chlamydia wherever they are treated. But the only supported guidelines for males, despite that it takes a couple to pass on an infection, are venue based," he says. They get tested in jails, through job corps, and adolescent services in general, or when they specifically request STI testing.
"Many of the clinic's patients have a relationship to the justice system in some way, shape, or form," Dr. Bell says. "They may be suspicious of how we are all connected together, and some assume that when they get urine testing for STIs, they are also being tested for drugs. We can usually allay their fears on that."
Providing sexual and reproductive health and primary care together adds value to both, says Dr. Bell. "If we can make a connection with guys who first come in about their sexual health, they trust us and open up about their other health concerns. When we make that connection, it's great."
Those connections may make a difference for the health and well being of these patients just a few years later. Rates of chronic illnesses— diabetes, hypertension, and heart disease—are on the rise among young men between 30 and 35, particularly young men of color. "We need to figure out a better way to provide primary care to the young men in our communities, especially those who are getting sick and dying early," Dr. Bell says. "My hope is that if we can get the word out that we are here, we might have the opportunity to change that and get young men involved earlier in their own care." -- Beth Hanson
This story originally appeared in the Winter 2014/2015 issue of Connections.