Andrea Califano Selected to Lead Chan Zuckerberg Biohub New York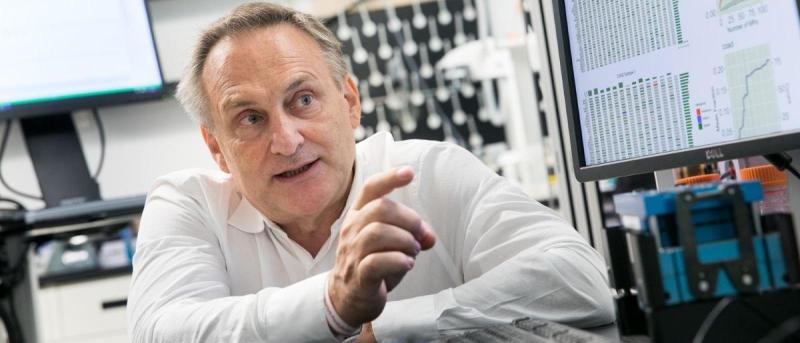 Andrea Califano, Dr, the Clyde and Helen Wu Professor of Chemical and Systems Biology at Columbia University Vagelos College of Physicians and Surgeons, will lead the new Chan Zuckerberg Biohub New York in its mission to harness and engineer immune cells for the early detection and eradication of human disease. The news was announced today by the Chan Zuckerberg Initiative.
The Chan Zuckerberg Biohub New York (CZ Biohub NY) brings together Columbia University, The Rockefeller University, and Yale University to create new technologies to characterize and bioengineer immune cells—with the ultimate goal of creating disease-specific "cellular endoscopes" that can detect early stages of disease in cells, monitor cell changes, and resolve diseases before they become untreatable.
The CZ Biohub NY is the fourth research institute in the Chan Zuckerberg Biohub Network, a groundbreaking collaborative model for scientific research. The network includes the first CZ Biohub, in San Francisco, a second in Chicago, and the Chan Zuckerberg Institute for Advanced Biological Imaging in Redwood City, California. Together, the CZ Biohub Network institutions pursue science and technologies that quantify human biology in action to help researchers measure how cells and tissues function to increase our understanding of health and disease.
"The CZ Biohub Network is driving a new model of long-term, strategic collaborative science that will enable its scientists to address scientific challenges," says Califano, who recently received the 26th Alfred G. Knudson Award in Cancer Genetics from the National Cancer Institute.
"Joining the Chan Zuckerberg Biohub Network presents a unique opportunity and long-term runway to assemble a remarkable 'dream team' of scientists and technologists to pursue their most ambitious goals aimed at creating a healthier future for all of us."