Celebrating Exercise—and Air Conditioning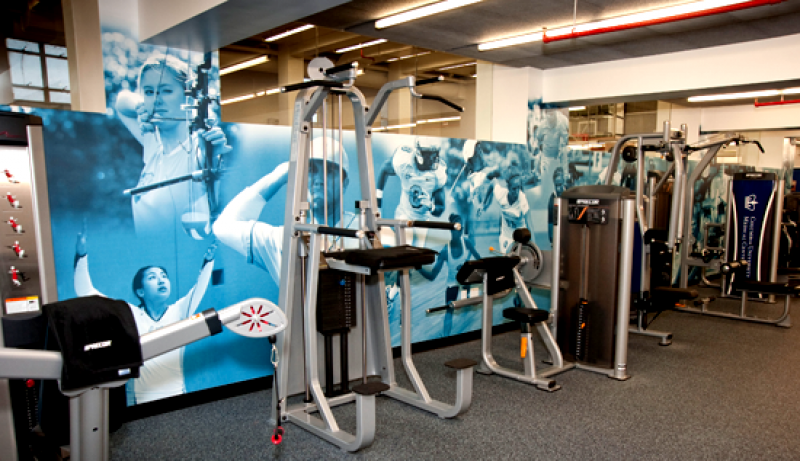 Students, faculty, and leadership cut the ribbon in January on a facelift given to Bard Athletic Center in Bard Hall, the 82-year-old student residence at Columbia University Medical Center. Significant improvements in the athletic center include additional equipment, renovated squash courts, a new floor, and modifications to make the entire facility handicap-accessible.
Bard Athletic Center has a pool (faculty member and Nobel Prize-winner Eric Kandel, a frequent swimmer there, calls the pool "wonderful" and the center's staff "superb"), basketball court, squash courts, weight room, and two levels of exercise equipment. CUMC is one of the few academic medical centers to have gym facilities this extensive, said P&S dean Lee Goldman, MD, at the ribbon cutting.
A few years ago, the deans of the four CUMC schools—P&S, Mailman School of Public Health, College of Dental Medicine, and School of Nursing—agreed to start a "four deans fund" to improve life for students, faculty, and staff at CUMC. The Bard Athletic Center renovation is one of the most visible results of that fund. The project, which covers 5,000 square feet, added a new heating and air conditioning system, replaced two of the three squash courts, and added 20 new pieces of cardio equipment.
Bard Hall, named for College of Physicians & Surgeons founder Samuel Bard, opened in September 1931, a few years after P&S moved to Washington Heights to become part of Columbia-Presbyterian Medical Center. The 11-story Art Deco building was designed by James Gamble Rogers, the architect behind many of the medical center's original buildings.
Topics