Care Packages for Chemotherapy Patients
The Department of Radiology's breast imaging program and the Department of Surgery's breast care program have joined together this month to hold their first Chemo Care Package Drive.
The month-long collection event finishes on Sept. 30; the care packages will be given in October to people undergoing cancer treatment.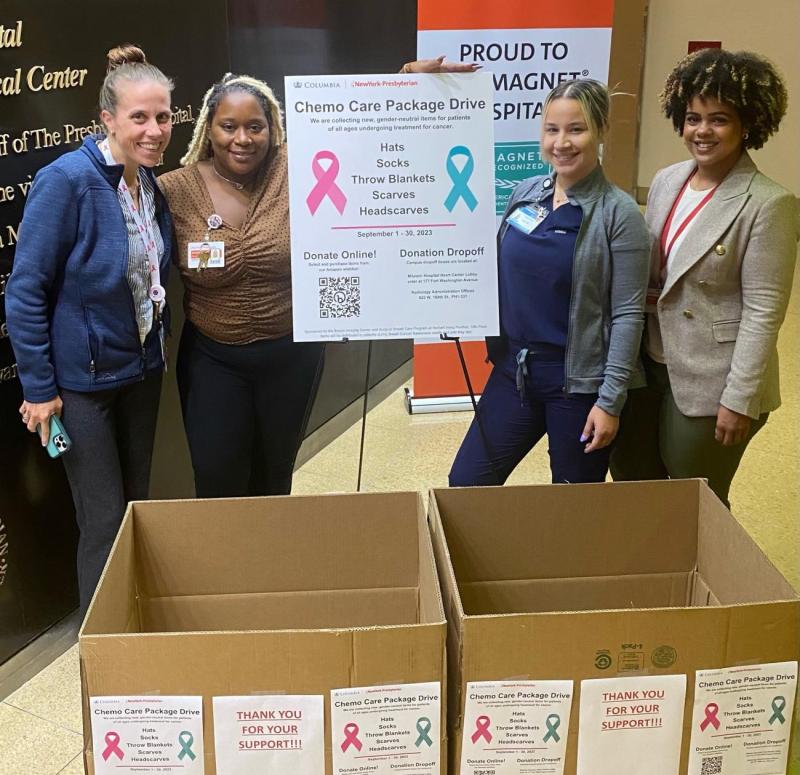 "Chemotherapy can be very stressful. Giving a little gift to people makes them feel nice during a stressful time," says Wynthia Peakes, who initiated the drive.
As coordinator of the breast imaging program at Columbia University Irving Medical Center, Peakes has connected with many patients over the years. The team sees patients for annual screenings, new findings, follow-ups, and preparations for procedures and surgery. Providing imaging services, however, is just one part of health care.  
"We are a service department, and although patients are with us for only a small piece of their cancer journey, they are always in our hearts and minds," says Peakes. "Emotional support is as important as testing. We want to make everyone feel thought of and cared for."
Cancer treatments can result in many unwanted side effects: dry skin, chapped lips, headaches, stomach aches, feeling cold, swelling, severe pain, and hair loss.
Peakes created an Amazon Chemo Care Package Drive Wishlist with items that help patients get through chemo, including moisturizers, ice packs, socks, blankets, scarves, and more.
"Anyone willing to help us share the spirit of caring and stand by each other in times of need can help," she says. Use the Wishlist to donate specific items or as inspiration. You also can use it as a guide for supporting friends or family going through cancer treatment. 
"Let's all support our patients or loved ones on this journey," says Peakes.
As word has spread about the drive, more and more donations have come in. Peakes expects they'll make hundreds of care packages when the team finishes collecting items at the end of the month.