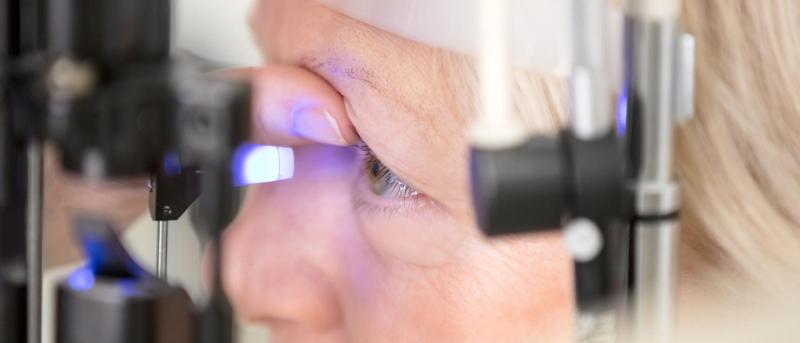 Can Nutrient Supplements Prevent Glaucoma?
One of the most effective treatments for glaucoma, latanoprost, was developed by Columbia ophthalmology researcher Laszlo Bito, PhD, who in the 70s and 80s conducted the key studies that led to the drug's approval in 1996. Since then, latanoprost has been the first-line treatment for reducing pressure inside the eye and preventing retinal damage and blindness.
Though the drug has saved the sight of millions of people, Simon John, PhD, Columbia's newest glaucoma researcher, says there's still room for improvement. "In some people, the retina degenerates even at normal pressure, and many of these people are at risk of vision loss," says John, the Robert L. Burch III Professor of Ophthalmic Sciences at the Vagelos College of Physicians and Surgeons.
Like Bito, whose ideas were at first dismissed by most glaucoma researchers, John initially encountered stiff resistance to his approach to studying glaucoma. "The resistance provided a challenge, and challenges tend to drive me," says John, whose methods were eventually accepted and widely adopted.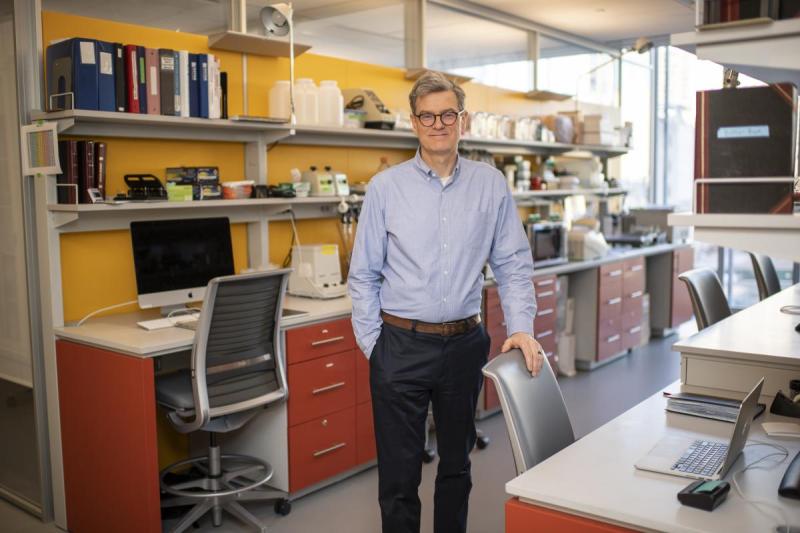 John's methods and observations have led to fundamental change in the way ophthalmologists think about glaucoma and to a potentially simple intervention: vitamin B3 and pyruvate. The first clinical trial of this nutrient combination, conducted last year at Columbia University Irving Medical Center, was encouraging.
We spoke with John about the nutrients' potential to prevent glaucoma and about his approach to science.
What led you to the idea that vitamin B3 and pyruvate can prevent glaucoma?
We had developed mice with high intraocular pressure that were likely to develop glaucoma but had not yet developed it. With those mice, we could look at what happens in the eye in the early stages of disease before any signs of retinal damage appear.
And one of the first changes we observed was mitochondrial dysfunction in retinal cells, which suggested mitochondria might be a primary driver of glaucoma. We also found that as the mice aged, levels of NAD, a molecule that promotes mitochondria health, declined.
I can recall a conversation with my mentor, Oliver Smithies, who shared the Nobel Prize in Physiology or Medicine in 2007. As we discussed experimental options, he strongly advocated introducing vitamin B3 supplements. Vitamin B3 is a major precursor of NAD.
Not only did vitamin B3 supplements boost NAD levels in our mice, but many fewer of the mice with high intraocular pressure and high NAD levels developed glaucoma. We observed a similar effect with pyruvate. And with additional experiments, we showed that vitamin B3 and pyruvate in combination are more protective than either nutrient alone.
This is an exciting result. Could the same intervention work in people?
We just conducted a small clinical trial here—led by Carlos Gustavo De Moraes, Jack Cioffi, and Jeffrey Liebmann—and the results are very promising. We administered vitamin B3 and pyruvate to 21 patients with glaucoma and moderate visual field loss in at least one eye. Over the course of a few months, we observed significant improvements in visual function.
Other researchers, too, are getting similar results. A group in Australia, inspired by our work, tested vitamin B3 alone in glaucoma patients and showed improved inner retinal function.
To confirm our results and make sure the visual function improvements persist, we need to expand the trials to include more patients across multiple sites. But we're just at the beginning. We do not yet know all the possible pharmacologic interventions. As we learn more about the biology of glaucoma, we could discover molecules that are even more potent than vitamin B3 or pyruvate.
It's a very exciting time in biomedical research. And with so much capability and drive in both basic science and clinical applications, Columbia is a great place to be.
You pioneered using mice in glaucoma research. At that early stage, how did experts in the field respond to your ideas?
Mice are very powerful tools in the study of disease, especially because we can manipulate their genes. The problem was the dogma, at the time, that the mouse eye was a poor analog of the human eye. For example, it was believed that mice lacked a Schlemm's canal, an important structure responsible for regulating intraocular pressure. It was also believed that structural differences in the mouse's optic nerve precluded the development of glaucoma.
I listened to these arguments and was a bit put off. But I gathered myself, thought hard, and decided to evaluate the evidence for myself. Over a period of many months, I scoured old literature and eventually concluded that there was no convincing evidence against using mice.
We worked out the pertinent anatomy and found that mice do indeed have a Schlemm's canal and that their optic nerve structure does not preclude developing glaucoma. We published our findings, and today mice are routinely used in glaucoma research.
As a result, I often tell trainees to consider the views of others, but don't be too put off by experts and dogma. If you've done your reading and data analysis and are still convinced something is worth doing, then trust your instincts and act boldly. Ultimately, the quality of your data and findings will speak for themselves.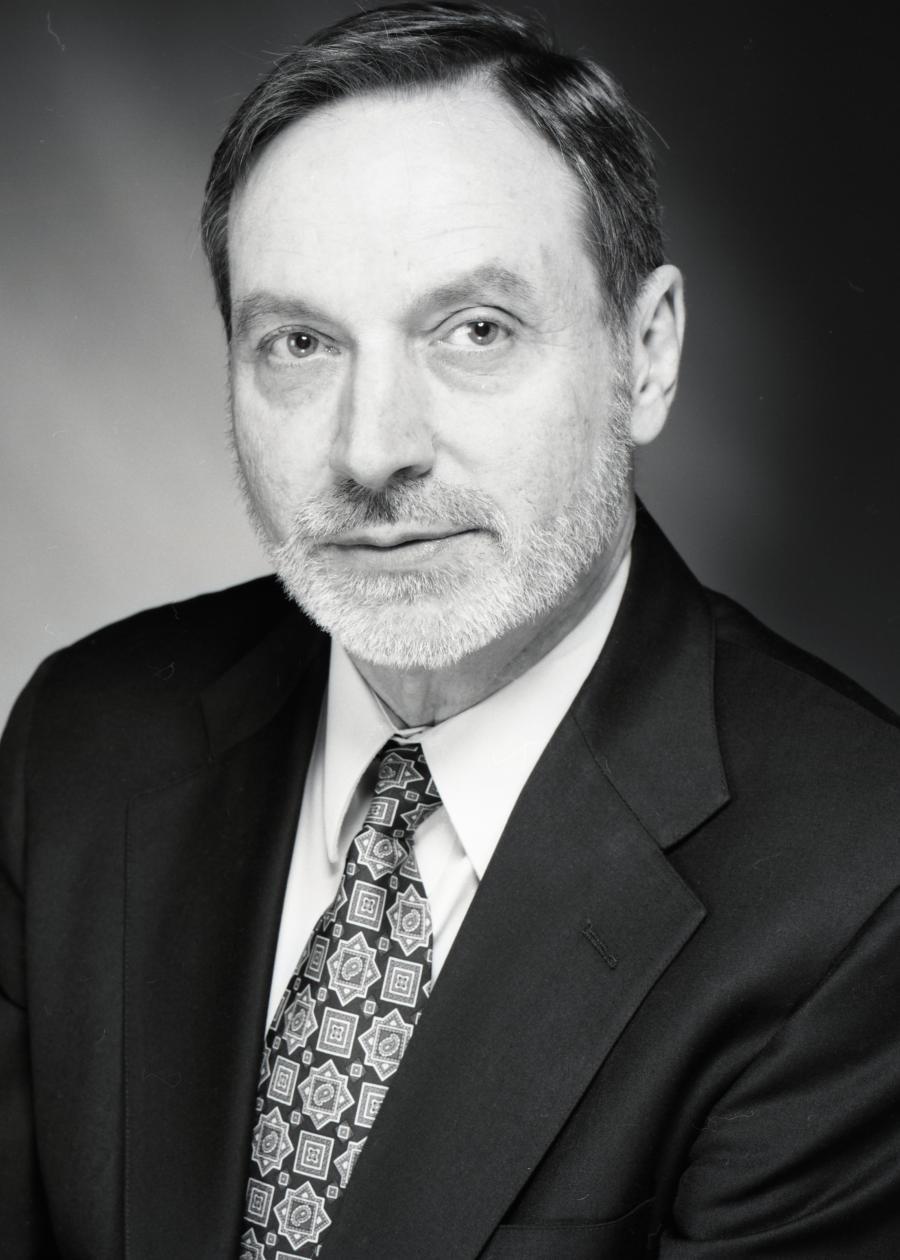 When Columbia researcher Laszlo Bito began studying glaucoma, it was assumed by virtually every expert in the field that hormones called prostaglandins raised pressure inside the eye (intraocular pressure, or IOP). Bito was unconvinced, and he went on to prove just the opposite.
With careful experimentation on animals and even on himself, Bito showed that at very small doses, prostaglandins applied directly to the eye could lower intraocular pressure. This observation led to the development of a synthetic prostaglandin, latanoprost, which remains the standard treatment for glaucoma. Bito died in November 2021 at the age of 87.
References
More information
Results from the clinical trial referenced in this article were published in JAMA Ophthalmology in a paper titled "Nicotinamide and Pyruvate for Neuroenhancement in Open-Angle Glaucoma: A Phase 2 Randomized Clinical Trial."
The authors (all from Columbia unless noted): Carlos Gustavo De Moraes, Simon W.M. John, Pete A. Williams (Karolinska Institutet), Dana M. Blumberg, George A. Cioffi, and Jeffrey M. Liebmann.
Carlos Gustavo De Moraes, MD, MPH, PhD, is associate professor of clinical ophthalmology and director of clinical trials in the Department of Ophthalmology at Columbia University Vagelos College of Physicians and Surgeons.
George Cioffi, MD, is chair of the Department of Ophthalmology, the Edward S. Harkness Professor of Ophthalmology, and the Jean and Richard Deems Professor of Ophthalmology at Columbia University Vagelos College of Physicians and Surgeons.
Jeffrey M. Liebmann, MD, is the Shirlee & Bernard Brown Professor of Ophthalmology, director of the Glaucoma Service, and vice chair of the Department of Ophthalmology at Columbia University Vagelos College of Physicians and Surgeons.