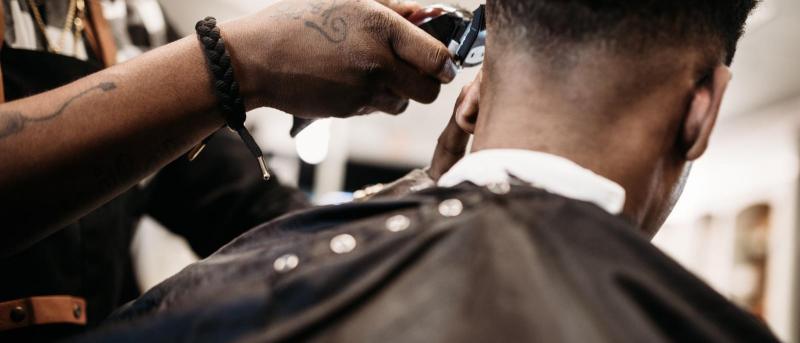 Black Barbershops Are Highly Cost-Effective Sites for Blood Pressure Treatment
Programs that bring pharmacists into Black-owned barbershops could dramatically improve hypertension control and reduce heart disease disparities among Black men at a relatively modest cost, according to a study by researchers at Columbia University Vagelos College of Physicians and Surgeons.
"Although it's expensive to bring pharmacists into barbershops, our study shows that the upfront costs are partially offset by the savings gained over time from preventing heart disease and stroke," says lead author Kelsey B. Bryant, MD, MPH, MS, instructor in medicine, who led the study with Brandon K. Bellows, PharmD, MS, assistant professor of medical sciences in the Department of Medicine.
The analysis found that a program that sends pharmacists trained to treat hypertension into barbershops would result in 36% more individuals having their blood pressure controlled over a 10-year period, prevent 30% of heart disease and stroke hospitalizations, and is highly cost-effective.
The study, available online ahead of print, will be published in the June 15 issue of the journal Circulation.  
Black men have highest rate of hypertension
"High blood pressure, heart disease, and stroke all adversely affect Black men more than any other population in the United States, and we need innovative and cost-effective ways to improve their health in these areas," says Bellows.
Barbershop outreach programs, which began in the 1980s, leverage trusted relationships between barbers and clients to deliver health information and improve health outcomes in Black men. 
Bryant and Bellows' analysis used data from a trial, conducted by researchers at Cedars-Sinai, of a unique barbershop program that sent pharmacists, who were trained to treat hypertension with medications, into Black-owned barbershops in Los Angeles.
"The L.A. program didn't just rely on the barber to encourage clients to see a provider," Bellows says. "It sent pharmacists to deliver the care and manage patients directly. It's a unique approach to care that produced some of the largest reductions in blood pressure among these types of programs."
In the trial, blood pressure decreased by nearly 20 points on average, and 68% of men were able to reduce their blood pressure to normal levels (<130/80 mmHg).
Sending pharmacists to barbershops is cost-effective
Using data from the trial, the Columbia researchers projected the total health care costs and health gains associated with the pharmacist intervention.
The Columbia analysis showed that the gains in health over time with the program justify its high upfront costs. The barber program is highly cost-effective, costing $43,000 per quality-adjusted life-year (QALY) gained. (A QALY is a measure that includes both quality and quantity of life gained; interventions under $50,000 are considered highly cost-effective).
The cost of the pharmacist intervention could be even more cost-effective—$17,000 per QALY gained, similar to the cost-effectiveness of statins in the treatment of high cholesterol—if generic drugs were used exclusively. Shortening the length of the intervention to 26 from 52 weeks and reducing the weekly travel time of the clinical pharmacists could lower the cost even more.
Improved health equity should also be factored in
The Columbia analysis did not account for the value of improved health equity in society, which is hard to quantify in monetary terms, though the researchers are currently developing such methods.
"We think future health economic evaluations should consider setting higher willingness-to-pay thresholds for interventions that decrease health disparities, which would make the added societal value of these interventions explicit," Bellows says.
In the meantime, the researchers hope their study will motivate insurers and other health care institutions to pay for highly valuable care that is delivered outside the traditional physician office setting. "These programs will only get off the ground on a wide scale if adopted by those that pay for health care," Bryant says.
Such programs could become even more cost-effective if barbershop pharmacists managed additional conditions.
"Many patients with high blood pressure also have high cholesterol and diabetes, which both increase the risk of heart disease and stroke," Bellows says. "The potential benefits of simultaneously managing all three of these conditions, without meaningfully increasing costs, would likely make this an even more valuable intervention."
References
More information
The paper is titled "Cost-effectiveness of Hypertension Treatment by Pharmacists in Black Barbershops."
The other contributors are Andrew E. Moran (Columbia); Dhruv S. Kazi (Beth Israel Deaconess Medical Center and Harvard Medical School); Yiyi Zhang (Columbia); Joanne Penko (University of California, San Francisco); Natalia Ruiz-Negrón (University of Utah); Pamela Coxson (University of California, San Francisco); Ciantel A. Blyler (Cedars-Sinai Medical Center); Kathleen Lynch (Providence Saint John's Health Center); Laura P. Cohen (Columbia); Gabriel S. Tajeu (Temple University); Valy Fontil (University of California, San Francisco); Norma B. Moy (Cedars-Sinai Medical Center); Joseph E. Ebinger (Cedars-Sinai Medical Center); Florian Rader (Cedars-Sinai Medical Center); and Kirsten Bibbins-Domingo (University of California, San Francisco).
The study was funded by the National Institutes of Health (T32 HP10260, R01 HL130500-01A1 R01 HL139837, DK108628-05S1, K23 HL136899, K23 HL153888, K01 HL140170, R01 HL 117983, and UL1 TR001881), the California Endowment, the Lincy Foundation, the Harriet and Steven Nichols Foundation, the Burns and Allen Chair in Cardiology Research at the Smidt Heart Institute, and the Division of Community Relations and Development at Cedars-Sinai Medical Center.
Florian Rader is a consultant for Recor Medical. The other authors declare no other conflicts of interest.