Biologist Awarded Diabetes Research Prize for Studies of Fat Cells
Karolinska Institute's Peter Arner wins Naomi Berrie Award for studies on the cellular processes that create and maintain fat tissue in humans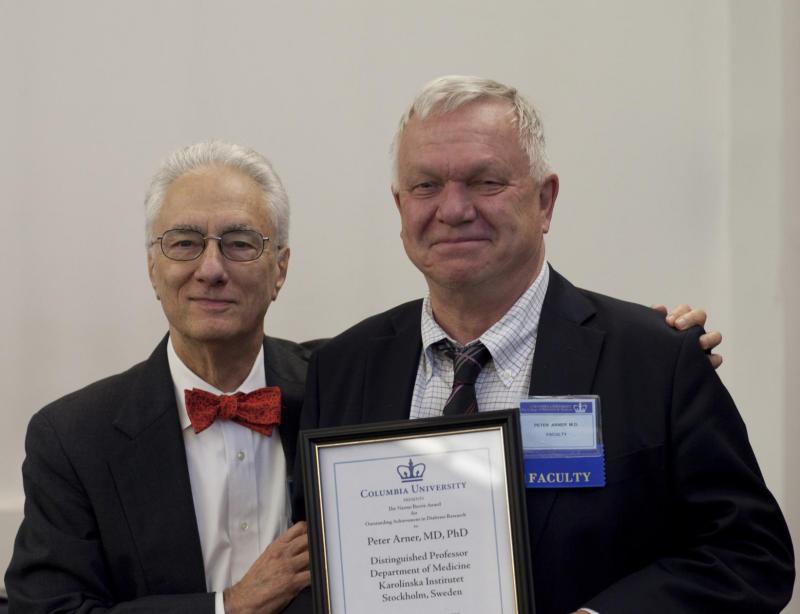 Columbia University has awarded the 2016 Naomi Berrie Award for Outstanding Achievement in Diabetes Research to Peter Arner, MD, PhD, a Distinguished Professor in the Department of Medicine at the Karolinska Institute, whose studies on the turnover of fat tissue in the human body have revealed processes that contribute to obesity and diabetes.
The Naomi Berrie Award for Outstanding Achievement is Columbia University's top honor for excellence in diabetes research, and Dr. Arner is the 18th winner since the award's inception in 1999. Dr. Arner received the award at a Nov. 19 ceremony during the Frontiers in Diabetes Research Symposium in the Russ Berrie Medical Science Pavilion at Columbia University Irving Medical Center (CUIMC).
"Peter has been responsible for identifying some of the key molecules, genes, and pathways that influence the production of fat cells and their growth," said Rudolph L. Leibel, MD, the Christopher J. Murphy Memorial Professor of Diabetes Research, co-director of the Naomi Berrie Diabetes Center, and chair of the award selection committee. "These discoveries have had a major impact on how we understand the role of body fat in metabolic diseases."
Dr. Arner and his collaborators were the first to show that the human body continues to produce fat cells into adulthood. Dr. Arner's team developed a method of measuring fat cell turnover in adults, which led to the discovery that fat cells are renewed relatively rapidly—around 8 percent of adult fat cells die every year and are replaced by new ones. Fat turnover was the same for all individuals in the study, including those who had lost a significant amount of weight, showing that the volume of fat cells, not their abundance, causes body mass to rise and fall during a lifetime.
Dr. Arner is also credited with discovering several adipokines—molecules released from fat tissue that can trigger inflammation and regulate the size and number of fat cells. His group showed that a molecule called Tumor Necrosis Factor alpha (TNFα) alters the levels of leptin, a hormone secreted from fat that plays a critical role in the regulation of body weight.
In the clinic, Dr. Arner's group designed and conducted a clinical trial of the drug ibertesan, showing that it slowed the progression of neuropathy—a type of nerve damage that develops in 40 percent of type 2 diabetes patients.
Peter Arner studied medicine at the Karolinska Institute and received specialty training in internal medicine and in endocrinology.
Naomi Berrie Fellows 
The Naomi Berrie Award for Outstanding Achievement in Diabetes Research includes an award of $130,000 that is used by the recipient to support a junior investigator in his or her laboratory for two years. The program also includes a similar award to a junior-level investigator at Columbia University. These individuals are designated "Berrie Fellows in Diabetes Research." The Berrie Fellowships for 2016 were awarded to Hui Gao, PhD, and Kristin McCabe, PhD.
Dr. Gao is a senior researcher in the Department of Biosciences and Nutrition at the Karolinska Institute, Sweden. He will work under Dr. Arner on the role of long non-coding RNA molecules in regulating genes in the adipose tissue of patients with diabetes.
Dr. McCabe is a postdoctoral research scientist in the laboratory of Alan Tall, MD, at CUIMC. She will investigate the ability of specialized heat-producing "brown" fat cells to reduce obesity risk, with a focus on a molecule called TTC39B. 
Russell Berrie Foundation Scholars
Taiyi Kuo, PhD, Yann Ravussin, PhD, and Lina Sui, PhD, are the Russell Berrie Foundation Scholars for 2016. This program provides support to international scientists to work at the Naomi Berrie Diabetes Center in collaboration with Columbia scientists. Each scholar will receive $75,000 in support of their research activities.
Dr. Kuo completed her PhD at the University of California, Berkeley and is a postdoctoral fellow in the lab of Domenico Accili, MD, the Russell Berrie Foundation Professor of Diabetes (in Medicine) at Columbia. She will research the role of epigenetics on insulin release from pancreatic beta cells.
Dr. Ravussin completed his undergraduate training at the Université de Lausanne, his PhD at Columbia, and has worked at the National Institutes of Health. Currently, he is a postdoctoral fellow in the laboratory of Anthony Ferrante, MD, PhD, associate professor of medicine at Columbia. He will investigate overfeeding and pathways that regulate body weight.
Dr. Sui completed her PhD at Vrije Universiteit Brussel and was a research associate scientist at the Institute of Biophysics, Chinese Academy of Science. Currently, she is a postdoctoral scientist in the laboratory of Dietrich Egli, PhD, assistant professor of developmental cell biology (in pediatrics) at Columbia. Dr. Sui will use stem cells to dissect the pathways that cause beta cells to fail when starved of glucose.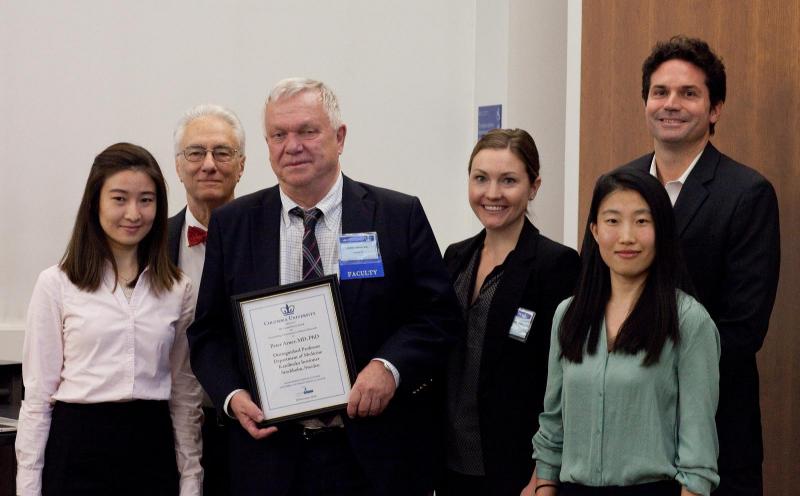 About:
References
The Naomi Berrie Diabetes Center at Columbia University Irving Medical Center opened in 1998 to serve the 1.6 million people with diabetes in the New York area, by combining world-class diabetes research and education programs with family-oriented patient care. Founded with support from the Russell Berrie Foundation and other friends, the center is named in honor of the mother of the late Russell Berrie, founder of RUSS™ Toys. The Center's more than 100 faculty and students conduct basic and clinical research related to the pathogenesis and treatment of all forms of diabetes and its complications. For more information, visit www.nbdiabetes.org.
Columbia University Irving Medical Center provides international leadership in basic, preclinical, and clinical research; medical and health sciences education; and patient care. The medical center trains future leaders and includes the dedicated work of many physicians, scientists, public health professionals, dentists, and nurses at the College of Physicians and Surgeons, the Mailman School of Public Health, the College of Dental Medicine, the School of Nursing, the biomedical departments of the Graduate School of Arts and Sciences, and allied research centers and institutions. Columbia University Irving Medical Center is home to the largest medical research enterprise in New York City and State and one of the largest faculty medical practices in the Northeast. For more information, visit cumc.columbia.edu or columbiadoctors.org.