Acupuncture Reduces Joint Pain From Breast Cancer Treatment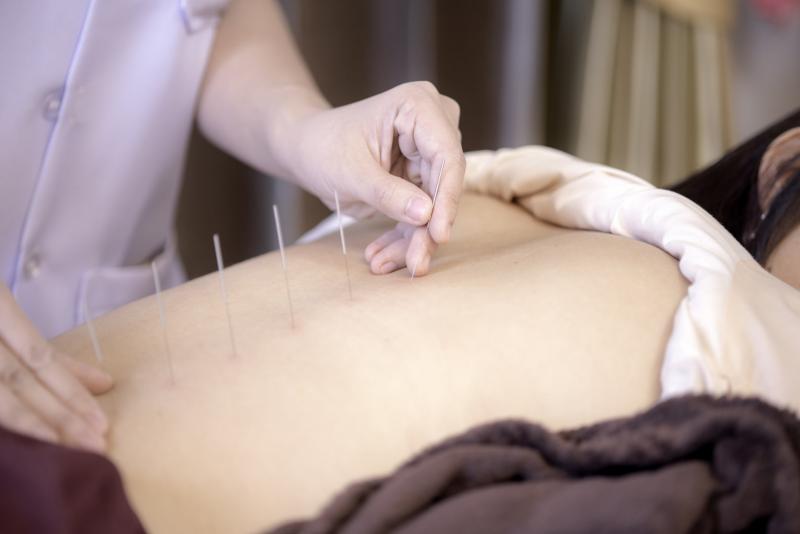 Researchers at Columbia University Irving Medical Center and NewYork-Presbyterian found that acupuncture was associated with a statistically significant drop in joint pain among women taking aromatase inhibitors, a type of breast cancer treatment.
The findings, originally presented in December at the San Antonio Breast Cancer Symposium, were published online in JAMA. The study was conducted by SWOG, an international cancer clinical trials group funded by the National Cancer Institute.
Each year, tens of thousands of women with early-stage, hormone receptor-positive breast cancer are treated with aromatase inhibitors—pills that reduce the risk of a cancer recurrence. When taken for five to 10 years, these drugs can increase survival. However, more than half of patients who take them experience side effects such as severe joint pain and stiffness (arthralgia).
"It's estimated that 50 percent of women who have aromatase inhibitor-associated arthralgia either discontinue or cut back on their medication," said Dawn Hershman, MD, lead author of the paper, professor of medicine in hematology/oncology at Columbia University Vagelos College of Physicians and Surgeons, and leader of the Breast Cancer Program at the Herbert Irving Comprehensive Cancer Center at NewYork-Presbyterian/Columbia University Irving Medical Center. "We need strategies to prevent the debilitating side effects that interfere with aromatase inhibitor therapy without causing new side effects."
Small, single-center studies have suggested that acupuncture—a form of traditional Chinese medicine in which thin needles are inserted through the skin to stimulate specific points in the body—may alleviate the joint pain caused by aromatase inhibitors.
"Given the growing opioid epidemic in the U.S., it's important that we find safe and effective ways of treating chronic pain, particularly in breast cancer survivors," said Katherine Crew, MD, associate professor of medicine and epidemiology at Vagelos College of Physicians and Surgeons, director of the Clinical Breast Cancer Prevention Program at NewYork-Presbyterian/Columbia, and senior author of the paper.
To get a better idea of acupuncture's effectiveness, Hershman and colleagues tested the intervention in a multicenter clinical trial of 226 early-stage breast cancer patients, all of whom had moderate to severe joint pain (a score of at least three on a questionnaire that measures pain on a scale of one to 10). The women were randomly assigned to get true acupuncture, sham acupuncture (needling at non-acupoints), or no acupuncture.
Women in the true or sham acupuncture groups had two sessions per week for six weeks, followed by weekly sessions for another six weeks. The patients were monitored for another 12 weeks after treatment ceased.
After six weeks, average pain scores fell by over two points in the true acupuncture group and by one point in the sham or no acupuncture groups. The differences in average pain, pain interference, and pain severity scores between the true acupuncture group and both control groups were also statistically significant.
In this study, Hershman and colleagues did not determine how many patients cut back on their pills due to pain or if acupuncture improved adherence to treatment.
"In the field of pain research, we are still trying to build some consensus about what constitutes a clinically meaningful reduction in pain," said Hershman. "What we know now, and did not appreciate when we designed the trial, is that experts regard the difference in the proportion of patients who had a two-point reduction to be clinically meaningful. We found that nearly 60 percent of women in the true acupuncture group experienced at least a two-point reduction in pain versus 33 percent of the sham acupuncture group and 31 percent of the controls. These results were highly statistically significant."
###
References
Dr. Hershman is an investigator with SWOG, a cancer clinical trials cooperative group supported by the National Cancer Institute.
The study is titled "Effect of Acupuncture vs Sham Acupuncture or Waitlist Control on Joint Pain Related to Aromatase Inhibitors Among Women with Early-Stage Breast Cancer: A Randomized Clinical Trial."
Other authors are Joseph M. Unger (Fred Hutchinson Cancer Research Center, Seattle, WA), Heather Greenlee (Fred Hutchinson), Jillian L. Capodice (Mount Sinai Hospital, New York, NY), Danika L. Lew (Fred Hutchinson), Amy K. Darke (Fred Hutchinson), Alice T. Kengla (Kaiser Permanente Medical Center, Walnut Creek, CA), Marianne K. Melnik (Spectrum Health Medical Group, Grand Rapids, MI), Carla W. Jorgensen (NCORP of the Carolinas, Greenville, SC), William H. Kreisle (St. Luke's Mountain States Tumor Institute, Boise, ID), Lori M. Minasian (National Cancer Institute, Bethesda, MD), Michael J. Fisch (AIM Specialty Health, Chicago, IL), and N. Lynn Henry (University of Utah Huntsman Cancer Institute, Salt Lake City, UT).
The research was supported by grants from the NIH (R01AT006376, UG1CA189974, and U10CA37429).
Ms. Darke received grants from the National Cancer Institute while the study was being conducted. No other financial or other conflicts of interest were reported.