Academy of Community and Public Service Inducts Second Class
In a virtual ceremony on June 10, the Academy of Community and Public Service (ACPS) inducted 18 faculty members from across Columbia University Irving Medical Center in recognition of their commitment to excellence in community and public service. ACPS recognizes faculty members who have gone above and beyond to promote clinical care, medical education, and research in the Upper Manhattan community and around the world.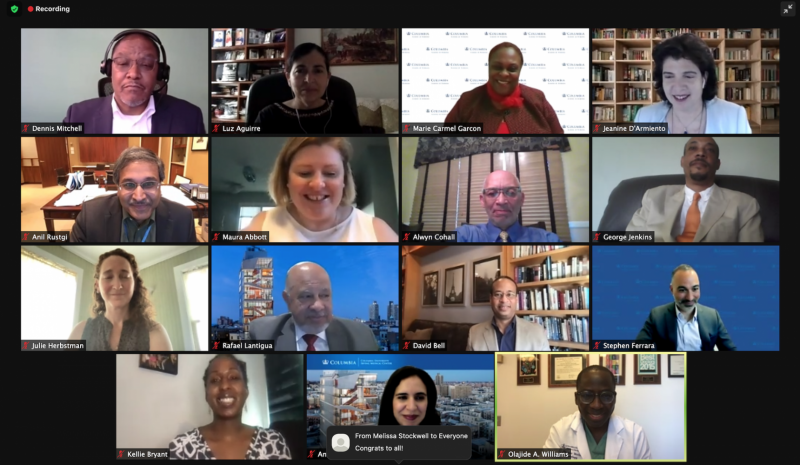 During the pandemic, the members' commitment to community service has supported neighborhood vaccination efforts, raised awareness of vaccine hesitancy, addressed structural racism, and provided local residents with myriad resources for coping with the social, economic, mental health, and medical challenges brought by COVID.
ACPS was launched in 2020 through the Office of Community Service Programs, led by Rafael Lantigua, MD, professor of medicine at CUMC and associate dean for community service in VP&S, and was created to honor faculty members in the Vagelos College of Physicians and Surgeons for their community and public service efforts. This year, for the Academy's second class, ACPS was expanded to include members from the College of Dental Medicine, the Mailman School of Public Health, and the School of Nursing. ACPS is thought to be the first faculty academy among health sciences institutions in the country to recognize service efforts. Its establishment further positions CUIMC as a leader in community engagement and solidifies its commitment to promote and improve community health.
"As a faculty member at VP&S, I thank Dean Lee Goldman for his pioneering idea to establish the Academy of Community and Public Service in 2020 and Interim Dean Anil Rustgi for his vision to expand the membership to faculty members of our four health sciences schools," says Lantigua. "I am thrilled about the formation and the expansion of the Academy as it reinforces the longstanding commitment of CUIMC to community service and engagement. The Class of 2021 is as diverse as our neighborhood, a true reflection of the communities we serve. I am very proud to be a member of the leadership of the ACPS."
Lantigua co-hosted the June 10 ceremony with Olajide Williams, MD, professor and chief of staff of neurology and associate dean of community research and engagement in VP&S. Both are members of ACPS's inaugural class and current Academy co-chairs.
The guest speaker at the ceremony was Lee Goldman, MD, professor of medicine and epidemiology and dean emeritus of the Faculties of Health Sciences and Medicine at Columbia University Irving Medical Center.
"Today represents a milestone on our campus, a historic coalescing of all four CUIMC schools around community and public service," says Williams. "The best and brightest faculty from our health sciences campus are being inducted into this visionary academy at a time when the deep wounds of structural racism and discrimination need us to come up with big ideas and meaningful solutions."  
The names of the inductees were read aloud by the deans of their respective CUIMC schools. Members are invited to be part of the Academy's steering committee and to support efforts to advance its mission.
2021 Academy of Community and Public Service Inductees
College of Dental Medicine
Luz Aquirre, DDS
George Jenkins, DMD, MHA
Dennis Mitchell, DDS, MPH
Mailman School of Public Health
David Bell, MD, MPH
Alwyn Cohall, MD
Julie Herbstman, PhD, ScM
School of Nursing
Maura Abbott, PhD
Adena Bargad, PhD
Kellie Bryant, DNP
Jennifer Dohrn, DNP
Stephen Ferrara, DNP
Marie Carmel Garcon, DNP
Beth Maletz, DNP
Vagelos College of Physicians and Surgeons
Joan Bregstein, MD
Ana Cepin, MD
Jeanine D'Armiento, MD, PhD
Adriana Matiz, MD
Samuel Silverstein, MD