Academy of Community and Public Service Inducts 16 CUIMC Faculty Members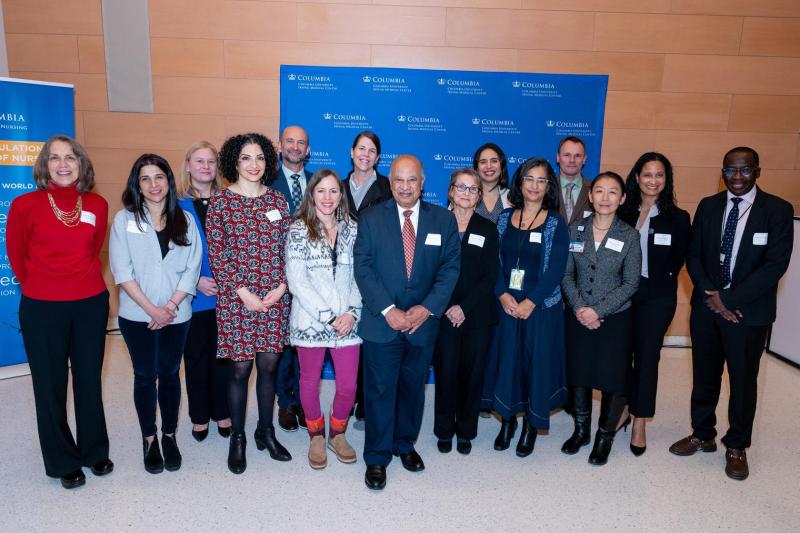 Sixteen faculty members from across Columbia University Irving Medical Center were inducted into the Academy of Community and Public Service on Jan. 31 in recognition of their community and public service efforts. The ACPS honors faculty members from the medical center's four schools—the Vagelos College of Physicians and Surgeons, the School of Nursing, the Mailman School of Public Health, and the College of Dental Medicine—who have gone above and beyond to promote health, well-being, and overall quality of life in the Washington Heights community and around the world. The new class is the third to be inducted into ACPS.
"Wellness encompasses not just our health but also our emotional needs, food, housing, education, digital literacy, safety, and sense of belonging, and we need to vigorously address those needs in a scholarly way as well as a service-oriented way," said Olajide Williams, MD, professor of neurology and co-chair of ACPS. "The members of this academy have done incredible work at the intersection of these social determinants of health."
Katrina Armstrong, MD, CEO of Columbia University Irving Medical Center and dean of VP&S, along with Linda P. Fried, MD, MPH, dean of the Mailman School of Public Health, and Judy Honig, EdD, DNP, vice dean of academics and dean of students at the School of Nursing, presented the faculty members from their schools, sharing their individual contributions and pinning inductees. In her remarks at the event, Armstrong expressed gratitude for all the work done by ACPS leadership and members to improve the health of the medical center's community and recognized the challenges still ahead.
"I'm grateful to be a part of this community, dedicated to taking care of the people here in the neighborhood and across the globe who need us the most," Armstrong said. "Health comes from where we live and work, and that's not new to our age, but it's our turn to ask ourselves how we can do more."
ACPS is led by co-chairs Williams and Rafael Lantigua, MD, professor of medicine and associate dean for community service in VP&S, and an executive committee of six members. ACPS has inducted more than 40 faculty members.
"The academy not only acknowledges the inductees' longstanding community work but also sends a strong message from leadership that these efforts are respected and valued," Lantigua said. "The holistic approach to health care by our members is always done in collaboration with community partners."
ACPS is one of the first faculty academies among health science institutions in the United States to recognize community and public service efforts. Members have made a wide variety of contributions to community and global health, including COVID-19 vaccination efforts and public and environmental health outreach. Their work has been particularly impactful for the Washington Heights community.
"As a lifelong resident of Washington Heights, I'm grateful to this group of health professionals who are dedicated to improving the well-being of this community," said Ana Cepin, MD, associate professor of obstetrics & gynecology and a member of the executive committee. "This is a vibrant, resilient, rich community that is not one of deficit, needing to be saved, but an equal partner helping us to find solutions in the work that we're doing."
Academy of Community and Public Service Inductees
School of Nursing
Ellen Fahey, DNP
Assistant Professor
Laura Kelly, PhD
Associate Professor
Mary B. Moran, MS, MPH
Instructor
Jeanne Neugebauer-Churchill, DNP
Assistant Professor
Sabrina Opiola McCauley, DNP
Associate Professor
Mailman School of Public Health
Markus Hilpert, PhD
Associate Professor, Environmental Health Sciences
Virginia A. Rauh, ScD
Professor, Population and Family Health
Rachel C. Shelton, ScD
Associate Professor, Sociomedical Sciences
Mary Beth Terry, PhD
Professor, Epidemiology (in Environmental Health Sciences)
Vagelos College of Physicians and Surgeons
Anne H. Armstrong-Coben, MD
Associate Professor, Pediatrics
Betty Chia-Wen Chang, MD
Assistant Professor, Emergency Medicine
Renu Maria Culas, MD
Assistant Professor, Psychiatry
Cristiane S. Duarte, PhD
Ruane Professor for the Implementation of Science for Child and Adolescent Mental Health (in Psychiatry)
Mara Minguez, MD
Assistant Professor, Pediatrics (and Population & Family Health in Mailman)
Milton L. Wainberg, MD
Professor, Psychiatry
Noelia M. Zork, MD
Assistant Professor, Obstetrics & Gynecology