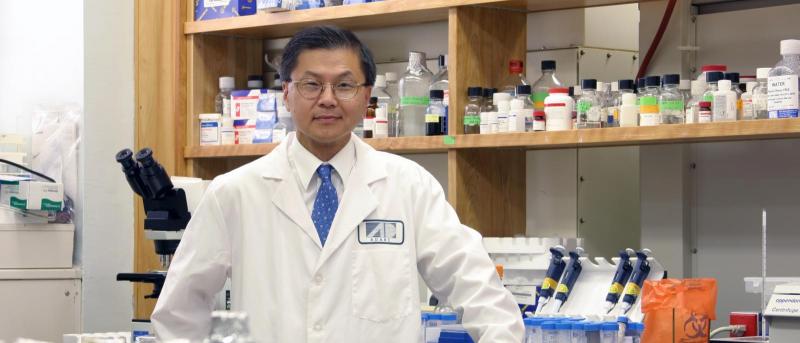 Aaron Diamond AIDS Research Center to Join Columbia University
David D. Ho, renowned HIV/AIDS researcher, is among dozens of scientists and staff who will join Columbia University
The Aaron Diamond AIDS Research Center for the City of New York (ADARC), the world's largest private research center dedicated exclusively to fighting HIV/AIDS, will become a center within the Vagelos College of Physicians and Surgeons (VP&S), the two organizations announced today. 
Dozens of ADARC scientists and staff will move to Columbia in mid-2019 and will occupy two floors of newly renovated state-of-the art laboratories in the medical center's Hammer Health Sciences Center.
The move is intended to facilitate a broad range of scientific and clinical collaborations between researchers at ADARC and faculty and clinical programs at VP&S. In addition to a focus on basic virology and immunology, the move will expedite clinical trials of new HIV drugs and vaccines.
"The Aaron Diamond AIDS Research Center is a world-leading center for the study of HIV and AIDS," said Lee Goldman, MD, dean of the faculties of health sciences and medicine and chief executive of Columbia University Irving Medical Center (CUIMC). "Our faculty are excited about the new collaborations that will advance our understanding of HIV and how to treat and prevent this viral infection. We're delighted to welcome them to Columbia University." 
"We are looking forward to this move because it will create a center of excellence within Columbia dedicated to research on HIV prevention and treatment. Scientists at the center will develop interventions to block virus transmission, including innovative vaccines, antibodies, and long-acting drugs for both prevention and treatment. A considerable effort will also focus on strategies to cure HIV infection. ADARC's research will be greatly enhanced and synergized by the existing basic and translational expertise on the Columbia medical campus," said David D. Ho, MD, ADARC's founding scientific director and chief executive officer. In addition to directing the center, Dr. Ho has been appointed the Clyde '56 and Helen Wu Professor of Medicine at Columbia.
The Aaron Diamond AIDS Research Center was founded in 1991, at the height of the AIDS epidemic, through the extraordinary vision of Mrs. Irene Diamond, who, as president of the Aaron Diamond Foundation, recognized the critical need for dedicated scientific and medical research in the field of HIV/AIDS, and former Mayor David Dinkins, who provided a home in New York City for the new institution. Since 1996, ADARC has been an academic affiliate of the Rockefeller University.
Major scientific discoveries made at ADARC have fundamentally changed the trajectory of the AIDS epidemic. Its basic researchers identified the molecule that serves as the virus co-receptor, as well as a number of intracellular proteins that restrict the replication of HIV. Its clinical investigators launched the use of protease inhibitors in infected patients. Under the leadership of Dr. Ho, center researchers unraveled the dynamic nature of HIV replication in patients, thereby revolutionizing our basic understanding of the disease. This knowledge led them to champion combination antiretroviral therapy that has resulted in unprecedented control of HIV in patients. HIV has been transformed from an inevitably fatal disease into a preventable and treatable one, enabling people living with HIV to live normal and productive lives. ADARC has been a major driving force behind this remarkable medical transformation.  
Columbia's researchers and clinicians have been at the forefront of the response to HIV/AIDS. Scientists at Columbia were the first to identify the CD4 receptor that the virus uses to gain entry into human cells. They were also the first to solve the structure of HIV bound to CD4—paving the way for the development of broadly neutralizing monoclonal antibodies, which are now being tested as a way to prevent HIV infection. 
Columbia faculty have led major clinical trials of antiretroviral agents, resulting in improved patient care. They have identified new approaches to preventing HIV-1 drug resistance and have studied new classes of HIV drugs. The Columbia discovery that viral load is a surrogate for disease progression has eliminated the need to use AIDS or death as endpoints in drug trials. 
Columbia researchers and clinicians have intensified their focus on HIV-1 prevention, with programs to provide pre-exposure prophylaxis (PrEP) and trials to test HIV-1 vaccine trials.  
This agreement not only allows ADARC and Columbia to combine their scientific strengths to address what is arguably the worst plague in human history, but also provides ADARC with a permanent home within one of the nation's top medical schools. Both parties are committed to redoubling their investment in the new center, including the recruitment of additional scientists, so as to ensure the new ADARC at CUIMC continues as a leading local, national, and global center of excellence in HIV/AIDS research.