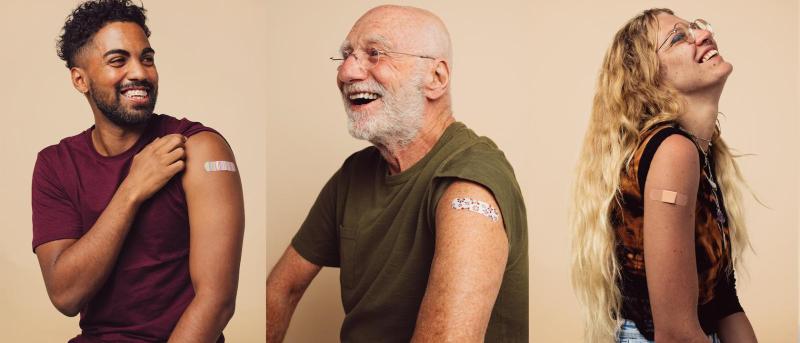 The 7 Vaccines Adults May Need
This is not a story about COVID, monkeypox, polio, or whatever the next emerging infection might be. This is a story about the routine vaccines you need as an adult, and why.  
Adults can fall behind on their vaccinations, because some vaccines are relatively new and awareness is low and because many adults do not get regular medical checkups. We spoke with Alexandra Brown, MD, a primary care physician at Columbia Primary Care, about the vaccines all adults need and when to get them. Now's a good time to make sure you're up to date. 
Why do adults need vaccinations? 
Many infections and diseases are preventable with vaccines. Vaccines protect people from getting sick (that's about you) and from spreading infections (that's about your friends, family, coworkers, and community).  
Some childhood vaccines are good for life. Others require boosters to maintain protection against disease. Still other vaccines are for diseases that primarily affect adults and aren't needed in childhood. 
People who are pregnant should ask their doctor about what's best during pregnancy. 
---
7 (Non-COVID) Vaccinations Adults May Need
For every adult, every year  
Flu  
Why: Flu causes millions of illnesses every year and has potentially serious complications, including death. Practices to limit spread of COVID-19 (e.g., face masks, social distancing, washing hands) help prevent the spread of flu, but nothing stops it. Since 2010 the CDC estimates that 138 million visits to doctors have been because of flu. Flu has caused 4.4 million hospitalizations and 359,000 deaths.  
Studies have shown that people who are vaccinated and still get sick have dramatically reduced severity of illness. This is especially true if you have chronic lung diseases: Flu vaccination reduces the risk of hospitalization and/or the flu worsening your lung disease.  
Where: Your doctor's office or pharmacy. 
---
Every 10 years after age 7 (presuming standard childhood dosing schedule) 
Tdap (tetanus, diphtheria, whooping cough) 
Why: Tdap provides 3-in-1 protection.  
Tetanus is a potentially fatal infection that people get from cuts or wounds. It causes muscles to stiffen. If this happens to respiratory muscles, you can have trouble breathing. It can result in death.  
Diphtheria is a contagious bacterial disease that infects the throat and skin and can lead to difficulty breathing, heart failure, paralysis, and death. 
Whooping cough (also called pertussis) is a bacterial infection of the lungs that can be mild in adults but causes coughing spells so bad that it's hard for babies and children to eat, drink, or breathe. It's contagious and can be fatal. If you are planning to see a newborn baby, welcome them with open, pertussis-protected arms.  
These days, if you get a tetanus booster you'll likely get Tdap (all three vaccines), though adults who won't be around children can get Td, which does not include pertussis.  
Where: Your doctor's office or pharmacy. 
---
Ages 18-26 
HPV (if not vaccinated already)
Why: Human papillomavirus (HPV) is a very common virus transmitted through intimate (not only penetrative) contact and causes oral, anal, and cervical cancers. According to the CDC, HPV is the most common sexually transmitted infection in the United States and is so common that nearly all sexually active people get the virus at some point. 
The HPV vaccine is most effective when given to people between ages 9 and 12 but still provides good protection before age 26.  
Where: Your doctor's office or pharmacy. 
Meningitis (if living in dorm or other shared housing)
Why: Meningitis is a severe brain infection and can be fatal. Bacterial meningitis spreads easily in shared housing, like residence halls. We vaccinate people routinely to protect them from meningococcus types A, C, W, and Y (Menactra, Menveo, and MenQuadfi), and for some high-risk populations, against meningococcus type B. During college campus outbreaks, students can get the meningitis B booster to help protect themselves.  
Where: Your doctor's office or pharmacy. 
---
Ages 19 - 64
Hepatitis B  
Why: Hepatitis B can damage your liver and cause serious health problems, such as cirrhosis, for which the only cure is liver transplantation. Hepatitis B can also lead to liver cancer. Treatment for hepatitis B does exist, but prevention of the virus with vaccination is safe and easy.  
Hepatitis B is easily transmitted through sexual contact and blood/body fluids. As of April 2022, the CDC's Advisory Council on Immunization Practices recommends everyone between the ages of 19 and 64 get vaccinated.  
Where: Your doctor's office or pharmacy. 
---
Ages 50+ 
Shingles 
Why: Shingles is a reactivation of the chickenpox virus most people had as a child. Even people vaccinated against chickenpox should get the shingles vaccine at age 50 (or age 19 if immunocompromised). Shingles causes a painful rash that usually develops on one side of the face or body and can be accompanied by nerve pain.  
The Shingrix vaccine is 97% effective in preventing shingles in adults age 50 and 91% effective in adults age 70. This vaccine is strong for the first seven years. Shingrix is more effective than the older Zostavax vaccine, so doctors recommend you get revaccinated with Shingrix even if you had the older Zostavax.  
Where: Your doctor's office or pharmacy; not all insurance covers this vaccine.   
---
Ages 65+ 
Pneumonia 
Why: Pneumonia is a major cause of death in the United States. It can affect people of all ages, especially those with certain chronic conditions, but older people are at greater risk. Talk with your doctor to find out when you should get your vaccine.  
Where: Pneumococcal conjugate (PCV15 plus PPSV23 one year later, or PCV20 alone) is available at your doctor's office or pharmacy. 
---
Should anyone not get vaccinated? 
Consult the CDC's Adult Immunization Schedule to learn the conditions under which vaccines should not be administered.
Should I get vaccinated if I'm traveling outside of the United States? 
Review the CDC destinations list for your location of travel to determine what vaccines are required.  
Or find a travel medicine specialist to determine and provide appropriate vaccines.  
References
Alexandra Brown, MD, is a primary care physician at ColumbiaDoctors specializing in family medicine and assistant professor of medicine at Columbia University Vagelos College of Physicians and Surgeons.