5 Questions with Rita Charon, Director of the Virginia Apgar Academy
In May, Rita Charon, MD, PhD, became director of the Virginia Apgar Academy, a community of educators at Columbia University College of Physicians and Surgeons (P&S). The Academy's mission is to promote, reward, and support outstanding education for P&S medical students, residents, fellows, and faculty. Dr. Charon is professor of medicine and the founder of the Program in Narrative Medicine at Columbia. We spoke with her about the Academy, her background, and next steps for the future.
Q: How does the Virginia Apgar Academy nurture the lives of educators?
A: The Academy has about 80 members and is good at stimulating close attention to our teaching. The Academy hosts workshops for faculty members, such as how to make a good PowerPoint, how to give a riveting lecture, team-based learning, and the flipped classroom. You can find some of our teaching tips on YouTube. Another important way we support teaching innovation is through an endowment gift from the Vanneck-Bailey Foundation. This year's recipient of foundation support is Anne Armstrong-Coben, MD, assistant professor of pediatrics and one of the medical school's advisory deans, who will focus on supporting and giving more resources to our advisory deans who help medical students with the transitions they go through. Last year, the grant went to Hetty Cunningham, MD, assistant professor of pediatrics, who developed a writing portfolio that is part of the P&S curriculum.
We're also currently accepting applications for our small-grant program, which awards $5,000 per faculty member in "startup" funds to do research in medical education. Interesting results come out of these small studies that can lead to increasing commitment to educational scholarship in the future.
Q: Why were you interested in the director role?
A: I've been a member of the Virginia Apgar Academy for many years and have seen firsthand how it benefits our faculty. This role appeals to me because I enjoy bringing together people who wouldn't otherwise be in the same room and collaborating with them on new ideas. I've learned how to be a convener through my past work. For example, some years ago I received a K07 National Institutes of Health (NIH) grant to improve the social, cultural, and interpersonal content of the medical school curriculum. We used the grant for faculty development around these areas. This faculty development seminar contributed in a major way to the creation of the innovative Foundations of Clinical Medicine course, which is taught across all four years of P&S. We also realized that members of K07, as we called the faculty seminar, were becoming course directors and clerkship directors. The group had become a breeding ground for leaders in the P&S curriculum. The seminar functioned as a mentoring and learning site for faculty from many departments throughout P&S, offering a "home base" for many of us through the years.
Q: In your experience as a convener, how important is it for doctors and educators to talk with people outside the field of medicine?
A: Physicians and scientists can forget how absolutely central their concerns are to the deepest aspects of people's lives. We are not only involved in biological disease and health. We are the ones who come to understand the limits of life, the nature of suffering, and the certainty of mortality. When patients get sick and approach death are the times that all will reach for some comprehension of what their time on earth has meant. No wonder doctors and scientists tend to be readers, artists, writers, and musicians. We find we need to seek out the sources of insight and meaning around us, perhaps in part to counteract or at least give some solace to the suffering and loss that we witness every day. P&S is unique among medical schools for the numbers of students and faculty who are accomplished in the humanities and the arts. Perhaps the Virginia Apgar Academy can contribute in this effort to bring creativity and beauty into our lives here at P&S.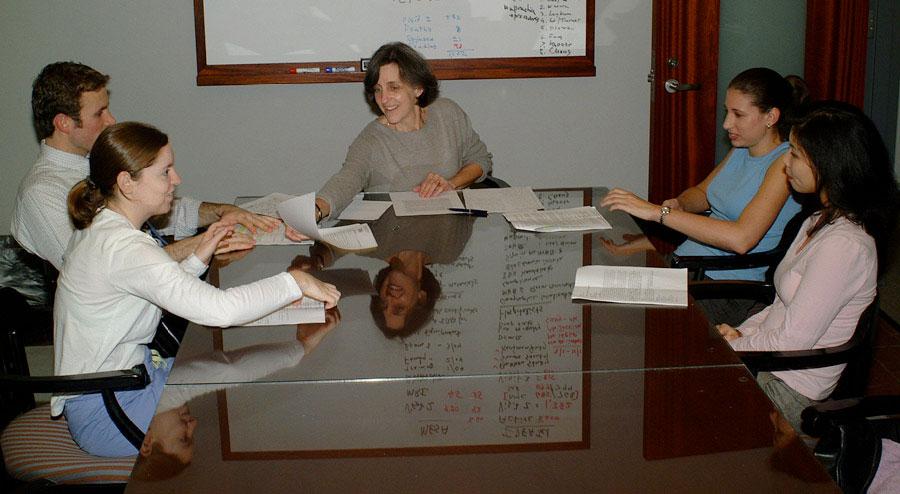 Q: What do you see in the future of the Virginia Apgar Academy?
A: I hope that the Virginia Apgar Academy can provide additional resources for P&S faculty, not only to help them improve as teachers but to help them grow in their own intellectual searches. I'd love to be able to offer graduate-level seminars, reading groups, and study circles in things like phenomenology, the philosophy of science, and modern literature to really explore questions about meaning, subjective experience, perceiving the lives of others, and interpreting what patients tell us about themselves. We need ways to come to terms with the uncertainties we live with and the doubts we absorb in giving even basic recommendations to patients. Instead of what is called burnout among clinicians, perhaps we can encourage a kind of deep looking, a deep attention to our practice, what we learn from it about the human condition, and the bottomless opportunity practice gives us to commit acts of kindness. We are in the position to recognize our patients and our students for who they are in very powerful ways. I want to help our physicians and scientists explore the really fundamental dimensions of their work and lives in medicine, and I think gathering together to study, read, write, and pay attention are the ways to get there.
Q: What are your next steps?
A: I'm on a listening tour. My first task is to speak with colleagues in the Virginia Apgar Academy. I want to hear what they hope to receive from the Academy. We have the chance to expand the Academy's mandate, to continue focusing on methods of teaching while also paying attention to what we ourselves have to learn and want to learn. I already know and have worked with many of the Apgar members, and I so look forward to coming to know more about how the Academy can serve them all.