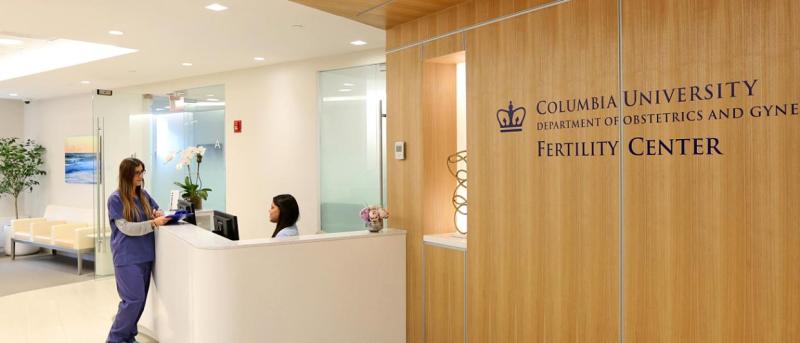 40 Years of Fertility Treatment at Columbia: Then and Now
In 1983, when the fertility center opened at Columbia University, a patient seeking fertility treatment typically fit the same general profile: a woman or a heterosexual couple, probably under age 40, with the financial means to pursue in vitro fertilization, which was one of the few treatment options available. The range of conditions that could be addressed through IVF was fairly small and mainly related to female-factor infertility, such as tubal disease. Even so, the rate of successful pregnancies from IVF was in the single digits, and the risk of multiple pregnancy was high.
Today, as the Columbia University Fertility Center celebrates its 40-year anniversary, it's impossible to sketch a profile of a typical patient who might seek care at the center. Treatment options and success rates have increased dramatically, making fertility treatment possible for a range of patients who may not have had access in the past, including LGBTQIA+ couples and individuals, carriers for potentially fatal genetic conditions, individuals with cancer, and people looking to preserve their fertility to have biological children later in life. Insurance and employer coverage of the costs of fertility care has also expanded, making treatment more accessible for a wider range of people.
"IVF represents one of the great triumphs of modern medicine," says Zev Williams, MD, PhD, director of the center. "In just four decades, we've gone from success rates of under 5% to over 90%. We've gone from having an increased risk of triplets, quadruplets, and higher order multiples and increased risks of preterm birth to having a lower rate of multiples than the general population and being able to use IVF to prevent the vast majority of genetic diseases."
Columbia Fertility Firsts
Columbia University Fertility Center, part of the Department of Obstetrics & Gynecology at the Vagelos College of Physicians and Surgeons, has pioneered many firsts in the field of fertility treatment, starting with helping the first woman in New York City over age 40 to have a baby via IVF, and has developed many new reproductive medicine technologies, including:
The first automated robot for preparing the dishes used to culture embryos
A system to allow men to produce sperm samples at home and drop them off at the fertility center for testing
A method for women to collect blood samples at home, removing the necessity for blood draws at the office
An oral IVF protocol that uses pills instead of injections to stimulate eggs to develop
A way to use nanopores to sequence genetic material from an embryo or miscarriage samples in hours instead of weeks and at a fraction of the cost
The last technology, termed short-read transpore rapid karyotyping (STORK), recently received approval from New York state for clinical testing. The fertility center has also launched VIBRANT, a study that uses a low-dose oral medication to try to slow ovarian aging and delay menopause.
"Genetic testing has been one of the largest factors in increasing the success rate of fertility treatments," says Roger Lobo, MD, professor of obstetrics & gynecology, who joined Columbia in 1995. The ability to screen embryos for chromosomal issues increased the success rate of transfers, which then allowed reproductive endocrinologists to reduce the number of embryos they transferred to a uterus at one time. Today, the success rate with one embryo is greater than what was previously possible with multiple embryos. These developments also allow for screening of embryos for well-known genetic conditions, such as cystic fibrosis, sickle cell anemia, and Tay-Sachs, and even diseases so rare that a couple might be among the only people in the world who are carriers. As a result, Lobo says, "Pregnancy outcomes through IVF have improved substantially."
Expanding Care
Male-factor infertility, originally less treatable than female-factor infertility, is now recognized as the cause of infertility in around 50% of couples. Advances in treatments as well as the quality of lab testing have made for better sperm cultures and better fertilization rates, which leads to better embryos with a higher chance of successful pregnancy.
One of the most hopeful developments in fertility treatment is the availability of options for those who want to preserve the option of having a family later in life or who are facing treatments for cancer or other conditions that may impact their ability to have biological children.
"We have cases with young adults and even children who are about to undergo cancer treatments that usually result in permanent infertility," Williams says. "But now, because of IVF, they're able to preserve fertility. There's something very powerful about being able to tell patients that after they've beaten cancer, they'll still be able to build a family. Their disease won't take that away from them."
Lifting the Stigma
The patient experience during fertility treatment has evolved significantly in the past 40 years. Williams attributes Columbia University Fertility Center's high success rates not only to innovative and high-quality medical care, but also to a team approach that involves coordinated care among numerous specialists and a smoother, more frictionless process with less paperwork, shorter wait times, and less stress for patients.
Outside of the fertility center, too, patients face less cultural stigma around fertility treatments, leading more patients to seek care when needed.
"One of the biggest differences is that fertility treatment is no longer this very taboo, secretive treatment that people feel embarrassed about," Williams said. "Now, people recognize it as a medical condition that evokes strong emotions but is not something to feel ashamed about.
"We try very hard to optimize every step of the medical techniques, while also tending to people's psychological state, making sure that patients feel supported and understand how much everybody here truly cares for them."
References
Make an Appointment
To learn more about the Columbia University Fertility Center or to make an appointment, visit columbiafertility.org or call 646-756-8282.