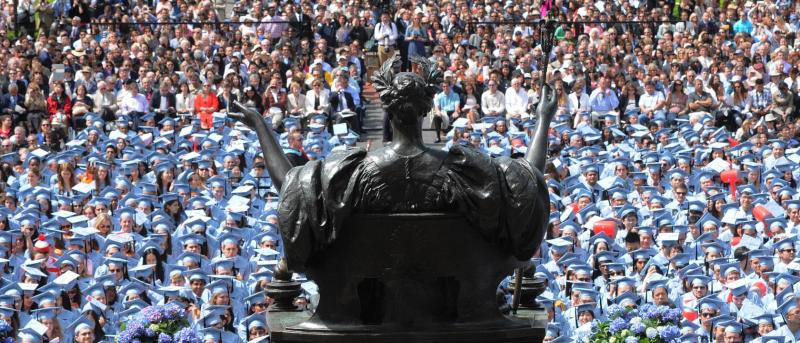 Student Stories from the Class of 2022
Commencement week has arrived at Columbia University Irving Medical Center, with a packed timeline of in-person celebrations for the first time since the COVID pandemic started. This year's graduates have faced unprecedented challenges but have completed their degrees while continuing to give back to their communities.
Read more below about just a few of this year's many exemplary graduates.
Lions of Social Justice
Columbia News honored students around Columbia for their efforts towards social justice, including:
---
Faith Daniel, MPH
Mailman School of Public Health
A devoted member of her community, Faith Daniel has vowed to combine her passions for advocacy and public health. Faith has volunteered in efforts to support the reproductive health of Bronx residents, and her academic research actively uplifts voices in this same community.
"I'm passionate about social justice because I've witnessed injustice firsthand and want to save others from the many inequities I've seen, from systemic racism to homophobia to sexism," she says. "All of this has inspired me to further my education and to use my public health knowledge and lived experiences to promote health equity and social justice. If I can have a positive impact on one person's life, then I've done my job."
---
Carlos Galvez, DDS
College of Dental Medicine
Carlos Galvez's experience as a Hispanic immigrant has offered him the chance to not only learn from his past, but alsoto give back to those going through similar hardships. During his time at CUIMC, Carlos served as the president of the Hispanic Student Dental Association and organized oral health community events for the Washington Heights community. His goal as a professional orthodontic provider is to inspire and give back to underrepresented groups.
"I've faced a lot of hardship growing up and later when I began my new life in the States," Galvez says, "but that never stopped me from feeling optimistic and working for a better future."
Read more about "Lions of Social Justice." 
---
---
Catherine (Cassie) Tarleton, MD, MPH
Vagelos College of Physicians and Surgeons
Personal passion and practice guide Cassie Tarleton, who says empowering girls and women is important to her work as a physician. At Columbia, she has served as a VP&S Equity and Justice Fellow, a commitment that entails collaborating with faculty and students to address and eliminate bias in the medical school curriculum. 
Women's health, reproductive justice, and advocacy are among Tarleton's priorities as she prepares for a residency in obstetrics and gynecology at the University of Hawaii. "I'm very excited to be returning home and to have the opportunity to serve the community that I am from."
---
School of Nursing
Five 2022 graduates from School of Nursing programs--master's direct entry, doctor of nursing practice, nurse anesthesia, PhD, and master's in advanced clinical management--looked back on their experiences at CUIMC.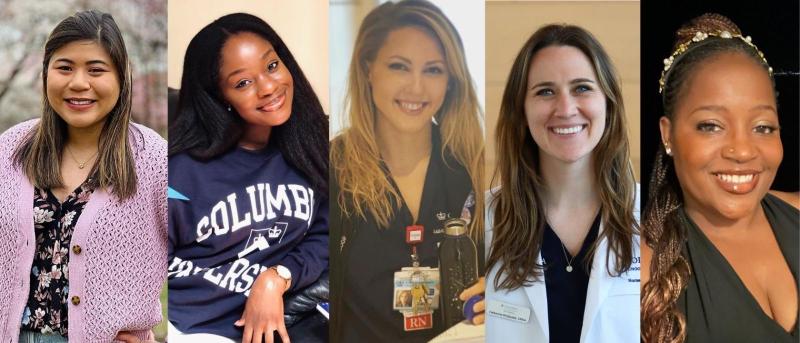 Read more on the School of Nursing website.
---
Campbell Award Winners
In 2016, the Columbia University Trustees and the Columbia Alumni Association (CAA) established the Campbell Award, which is presented to a graduating student at each school who shows exceptional leadership and Columbia spirit as exemplified by the late Bill Campbell '62CC, '64TC, Chair Emeritus, University Trustee, and CAA co-founder.
Alden Bush, DNP
School of Nursing
Bush has served on the MDE Student Advisory Council, as a University senator and vice chair of the Senate Student Affairs Committee, and on the executive board of the School of Nursing Student Council. He also served on a number of ad-hoc committees such as the Campus Security Advisory Committee and the Taskforce for Addressing Structural Racism at CUIMC. President Bollinger appointed him to the Presidential Advisory Committee on Sexual Assault. 
---
Varna Kodoth, MPH
Mailman School of Public Health
During her time at Columbia, Kodoth has been vice president of student affairs of the Graduate Student Association, co-manager of the Citizens Public Health Literacy group, senior program coordinator for the Childbirth Education Program at CUIMC, and a research coordinator for the Columbia Research Goes Red women's health study.
---
Lilian Liao, MD
Vagelos College of Physicians and Surgeons
Throughout medical school, Liao cared for patients at the Columbia Harlem Homeless Medical Partnership and served as joint clinic manager of the five student-run free clinics at VP&S. She also continued her musical endeavors as a violinist, leading the Musicians' Guild and serving as concertmaster of the CUIMC Symphony Orchestra.
---
Michelle Nadine Skelton, DDS
College of Dental Medicine
Skelton served as the national vice president of the American Student Dental Association and continues to be active in organized dentistry. At the dental school, Skelton held executive roles within Class Council, Interprofessional Education, Alumni Association, Orthodontics Society, and the Columbia chapters of the Student Professionalism and Ethics Association in Dentistry and the American Dental Education Association.
Read more about Campbell award winners.
---
Local Graduates
Three Columbia students from the local community, including Paul Kehinde Ajayi in the Mailman School of Public Health, were recognized for their academic efforts and dedication to their neighborhoods by Columbia Neighbors.
Morningside Heights resident Paul Kehinde Ajayi will graduate with a master's of public health degree in epidemiology and a certificate in health policy & practice. After graduation, Ajayi will join a social epidemiology lab to research political-legal arrangements, power relations, and forms of social control that affect population health. He aspires to become a public health physician, committed to using humanistic medicine, policymaking, and data from lived experiences to effect change and improve health outcomes for historically excluded communities.
Read more.
---
Words of Wisdom
Though they did not get the chance to participate in graduation ceremonies in person, Columbia graduates Lauren Battle, MPH '21 and Carolina Torres, MPH '20 offered words of wisdom to this year's class and prospective students.