Upcoming 2022 Columbia Graduations
After two years of virtual ceremonies, graduates in the Class of 2022 will be able to attend Columbia's commencement and school ceremonies in person.
Columbia Commencement
Wednesday, May 18, 10:30 a.m. on the Morningside campus
Speaker: Lee Bollinger, JD, president of Columbia University
All April, May, and June 2022 degree candidates, as well as February 2022 and October 2021 graduates, are invited to attend the university-wide ceremony. A make-up University commencement ceremony for the Classes of 2020 and 2021 will follow on Thursday, May 19, at 9 a.m.
Faculty Awards
At commencement, Devon M. Rupley, MD, assistant professor of obstetrics & gynecology at VP&S, will be presented with a Presidential Award for Outstanding Teaching. The awards are given to faculty instructors who have significantly influenced the intellectual development of Columbia students.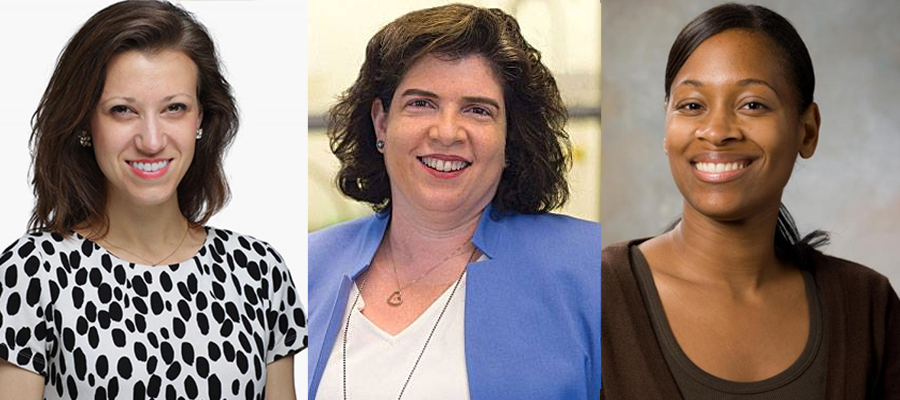 Two VP&S faculty will receive Faculty Service Awards, which recognize full-time faculty whose extraordinary and creative voluntary service has contributed significantly to the University's diversity, equity, and inclusion efforts: Jeanine D'Armiento, MD, PhD, professor of medicine (in anesthesiology and physiology & cellular biophysics), and Marisa Spann, PhD, the Herbert Irving Associate Professor of Medical Psychology in the Department of Psychiatry.
For more information about the 2022 university ceremonies, visit the Columbia Commencement site.
CUIMC Graduation Ceremonies
In addition to Columbia's commencement ceremony, each school will hold its own graduation ceremony. The CUIMC school ceremonies will be held in the New Balance Track & Field Center at the Armory adjacent to the CUIMC campus.
Vagelos College of Physicians and Surgeons
Wednesday, May 18, 2 p.m.
Speaker: Mary Bassett, MD'79, MPH, commissioner of the New York State Department of Health and former associate professor of clinical epidemiology at the Mailman School of Public Health
Mailman School of Public Health
Tuesday, May 17, 4 p.m.
Speaker: Gina McCarthy, the first White House National Climate Advisor under President Joe Biden and former administrator of the U.S. Environmental Protection Agency under President Barack Obama
School of Nursing
Tuesday, May 17, 10 a.m.
Speaker: Katrina Armstrong, MD, chief executive officer of CUIMC and dean of the Faculties of Health Sciences and the Vagelos College of Physicians and Surgeons
College of Dental Medicine
Thursday, May 19, 11:30 a.m.
Speaker: Lisa Tedesco, PhD, dean in residence for the Council of Graduate Schools and vice provost emerita of academic affairs and dean emerita of the James T. Laney School of Graduate Studies at Emory University
Individual programs—occupational therapy, physical therapy, genetic counseling, and the Institute of Human Nutrition—also have ceremonies planned. Details are available here.