2022 Baton Awards Recognize Exceptional Teamwork
Columbia University Irving Medical Center has honored six staff members with 2022 Baton Awards that recognize outstanding efforts by staff members who act as team players, contributing to the overall success of the medical center.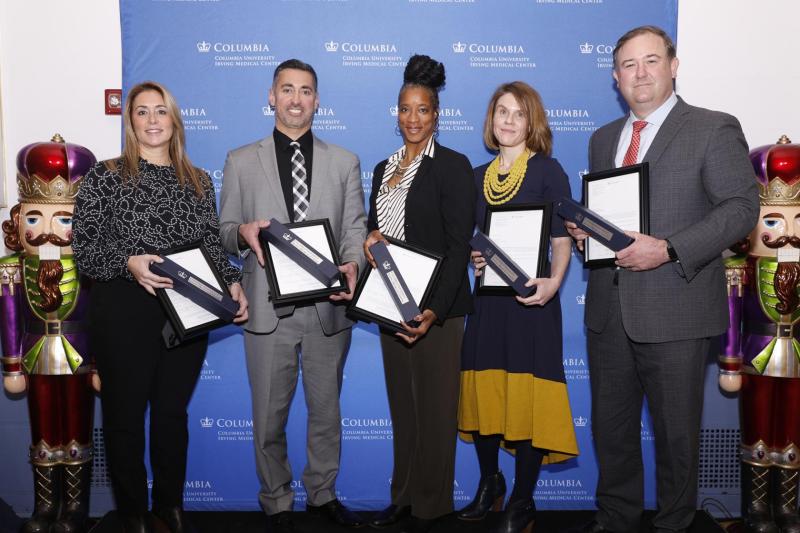 While many awards recognize individual achievements, the Baton Awards highlight the importance of teamwork in contributing to the medical center's success. The awards were created in 2009 to recognize individuals who "go the extra distance to make sure that if a teammate fumbles, they are there to catch the baton, and who trust their colleagues to take the baton from them when they pass it along, understanding that any success is a shared one." 
The 2022 awards were presented at the Dec. 2 meeting of the CUIMC Administrators Network.  
Recipients of 2022 Baton Awards: 
CUIMC Central Administration 
Christopher Cariello, Assistant Director, Internal Controls and Compliance 
Chris Cariello joined the Office of Internal Controls in 2011 and was promoted to multiple positions before he took the role of assistant director. Cariello handles system access and special internal control reviews. He helps medical center staff navigate access to Columbia's financial systems, including Concur, and has supported many special projects that address the current needs of administrators. 
College of Dental Medicine 
Kelli Johnson, Director of Postdoctoral Student Services 
Kelli Johnson joined the College of Dental Medicine in 1999 as an administrative assistant and has been promoted several times. In 2020 she assumed her current role, where she is instrumental to the academic and overall success of CDM's postdoctoral students. Johnson has deep-rooted institutional knowledge, leads by example, and is known for her ability to maneuver through challenging situations, all while serving, mentoring, and advocating for the postdoctoral student body. 
Mailman School of Public Health 
David DeClercq, Associate Dean of Finance  
David DeClercq joined Columbia in 2017. His expertise in financial modeling and reporting has given his team at Mailman new insights into the school's financial state and the ability to predict the impacts of incremental changes to tuition, research funding, staffing, and more. DeClercq consistently provides excellent service and demonstrates the highest level of teamwork and collaboration.  
School of Nursing 
Kate Polson, Assistant Dean, Accounting & Financial Planning 
In her nearly eight years with the School of Nursing, Kate Polson has built a career on her skills, knowledge, and ability to work with every colleague. Polson and her team are responsible for all aspects of managing the finances and procurement at the school. As the liaison to central offices, such as the central budget office and university procurement, Polson is an expert in identifying solutions to complex issues. She is a valued team player and shares information and ideas to help others achieve their goals. 
Vagelos College of Physicians & Surgeons 
Stephanie Blaney, Department Administrator, Department of Orthopedic Surgery 
Stephanie Blaney joined Columbia in 2013 as a practice administrator in the Department of Pediatrics and joined the Department of Orthopedics in 2015. She was promoted to department administrator in 2019. Blaney's colleagues commend her for leading the department with grace, professionalism, and vision. 
Jessica Burns, Department Administrator, Institute for Genomic Medicine 
Jessica Burns joined Columbia in 2019 as department administrator for the Institute for Genomic Medicine. She joined Columbia from the New York Genome Center, where she was the controller during the last three of her five years there. Burns has worked to ensure seamless operations on her team and has helped maintain stability within the institute through her commitment to excellence. 
More Photos