2017 in Review: P&S 250th Anniversary Highlights
The year 2017 started with a party—and cake. Columbia University Irving Medical Center (CUIMC) hosted a cake competition to mark a number of milestones on campus, including the 250th anniversary of the College of Physicians and Surgeons (P&S).
In March, 167 P&S students participated in a historic Match Day. The Class of 2017 was the largest class P&S has graduated, and this year's match was the largest in American history, with a record 35,969 U.S. and international medical school students and graduates vying for 31,757 positions.
In honor of Women's History Month in March, P&S also marked a century of co-ed medical education, thanks to Gulli Lindh, who started a campaign to be the first woman admitted to P&S.
Micro-anniversaries also were celebrated this year. Columbia's programs in occupational therapy turned 75, the Columbia-Harlem Homeless Medical Partnership run by P&S students turned 10, and the Summer Program for Underrepresented Students turned 15.
As summer segued to a new academic year, the members of the Class of 2021 donned their white coats in a ceremony on Aug. 14—the same day in 1767 when the governors of King's College unanimously approved a petition to organize a "School of Physick" at the college and so began medical education at Columbia.
Fall 2007 brought more milestones. On Oct. 7, 467 cyclists geared up for Columbia's first Velocity ride and raised $1.4 million for cancer research. A New York City landmark amplified anniversary festivities. The Empire State Building was lit blue on Nov. 2 to mark 250 years since the first day of classes began in 1767.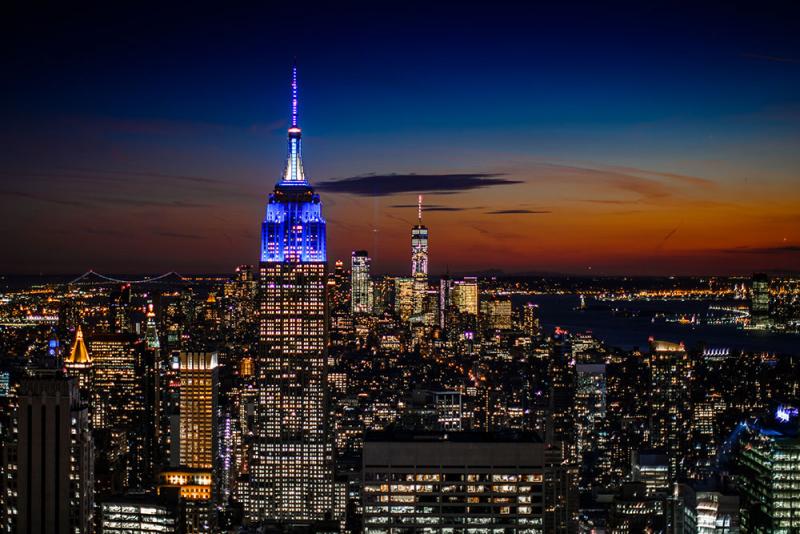 The 250th anniversary culminated with soprano Renée Fleming performing at the annual Crown Awards Gala in December. At the event, Columbia announced that the medical school has been named in honor of Dr. P. Roy (P&S '54) and Diana (BC '55) Vagelos, who have donated an additional $250 million to the college. A major portion of their gift will be used to help Columbia eliminate student loans for medical students who qualify for financial aid.