2017 Is Historic Match Year for P&S Students
Tearing envelopes, snapping cameras, and joyful chatter rang through Bard Hall at Match Day on March 17 when P&S medical students gathered with family and friends to learn where they will spend their residencies.
"This is the biggest class that P&S has ever graduated," said Lisa Mellman, MD, senior associate dean for student affairs, in her address to students three suspenseful minutes before they dashed to a long table covered in envelopes sealed with letters noting their results. "Nationally, this was considered to be a tough year for Match, because there were so many applicants in the applicant pool. We did phenomenally well regardless and with a large class."
Across the United States, graduating medical students learned the results at the same time on March 17. The National Resident Matching Program (NRMP), also know as The Match, manages the computer algorithm that pairs medical students to open residency spaces based on their preferences and those of the residency programs.
At P&S, 167 students participated in the Match. The most popular residencies were internal medicine  (46 students), anesthesiology (12), psychiatry (12), pediatrics (11), and obstetrics and gynecology (10). More than one-third of P&S students will do all or part of their residency in New York City (39 percent will remain in New York state).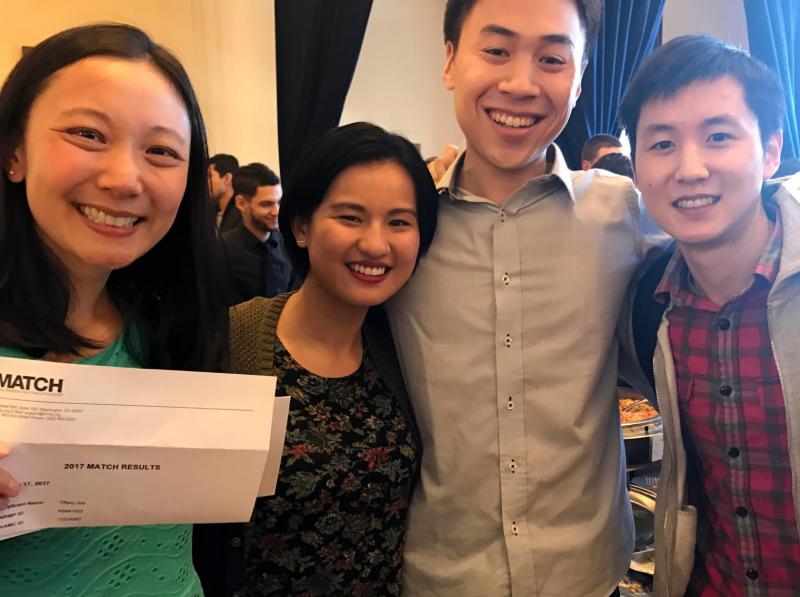 According to NRMP, this year's match was the largest in its history, with a record 35,969 U.S. and international medical school students and graduates vying for 31,757 positions, the most ever available.
The 2017 Match Day was also historic for P&S students because it coincides with a special milestone: this year marks the 250th anniversary of the Columbia University College of Physicians and Surgeons. To learn more about upcoming anniversary events, visit 250.ps.columbia.edu.
The Match Day festivities were streamed live via the Columbia University Medical Center Facebook page. Watch the video and follow us on Facebook.