2016 Baton Awards Recognize Team Players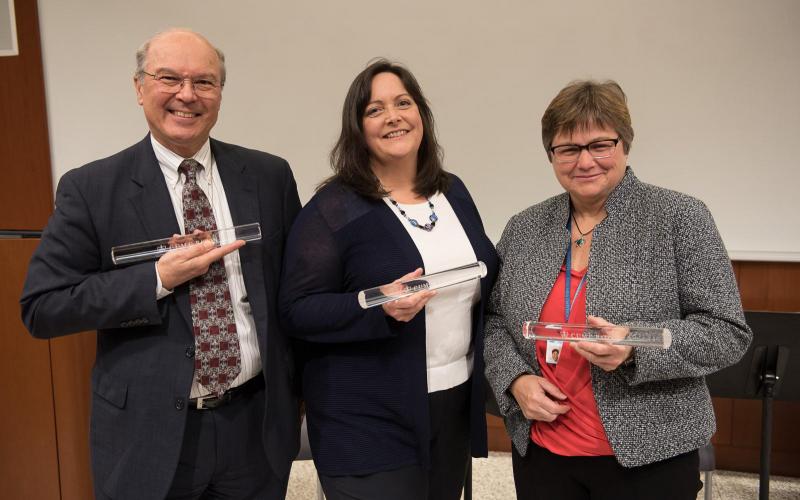 CUMC has presented the 2016 Baton Awards to three staff members—Jeannine Jennette,  Elizabeth Sparrow Tashiro, and Gerald Jeglinski. The Baton Awards were created in 2009 to recognize exceptional team players at the medical center.
Jeannine Jennette, executive director of public safety at CUMC, joined Columbia in 2002 and was promoted to director of public safety in 2007 and executive director in 2011. Jeannine works with faculty, staff, students, and the community to ensure the CUMC campus is a safe environment. She has helped CUMC get through natural disasters, including hurricanes and blizzards, as well as unnatural disasters, such as transit strikes. Jeannine was a deputy inspector with the NYPD before joining Columbia.
Elizabeth Sparrow Tashiro, associate dean of information technology at the Mailman School of Public Health, joined Columbia in 2003. She and her team are charged with supporting the computing needs of a diverse, dynamic, and international student body and teaching and research faculty. Elizabeth is innovative in her approach to problem-solving, always with an eye to increasing communication, transparency, and education.
Gerald Jeglinski, senior director of budget & financial reporting at P&S, began his Columbia career in 2007 as director of financial analysis at CUMC before becoming senior director of budget and finance at P&S in 2009. Jerry's experience in the finance areas of both CUMC and P&S and his extensive knowledge of department, center, and institute finances enable him to identify and creatively resolve problems. Jerry leads by example and has mentored and developed many of the finance staff throughout P&S and CUMC. Before joining Columbia, he was a vice president at New York University Medical Center and chief operating officer/chief financial officer at the American Liver Foundation.
Topics