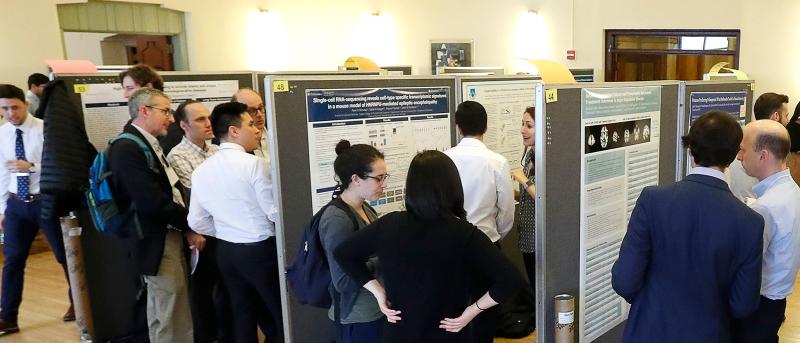 14 Projects Win Awards at VP&S Student Research Day
With topics ranging from epilepsy to electronic health records to Alzheimer's disease, 76 students shared their research with faculty, colleagues, and fellow students at the annual Student Research Day of the Vagelos College of Physicians and Surgeons (VP&S). They described their findings to judges, including VP&S Dean Lee Goldman, MD, and awards were given for top work.
The work on display highlighted the many research opportunities found in the VP&S curriculum. A scholarly project is required for graduation and many students also spend a summer or an extra year doing research. Each student collaborated with at least one faculty mentor. Research approaches spanned basic and clinical sciences and ranged in themes from narrative medicine to global and population health to medical education.
"I worked with Dr. Virendra Patel, one of our fantastic vascular surgeons," says Denzel Woode, a fourth year medical student who studied the effect of chronic kidney disease on the surgical repair of complex aortic abdominal aneurysms. "I learned about new procedures and techniques, and it was interesting for me to see how patients' preoperative medical diagnoses can affect their surgical outcomes. I am going into general surgery for my residency and can use this information in my career."
VP&S Student Research Day projects are categorized as research year, scholarly projects, summer research, and MD/PhD research. Students in each category are selected for awards.
In addition, five students graduating this year with a dual degree, the MD-MS in Biomedical Sciences, presented their research at a smaller symposium. The program started in 2015 to provide students with the opportunity to develop a research interest and perform a year of original research in a medically relevant field.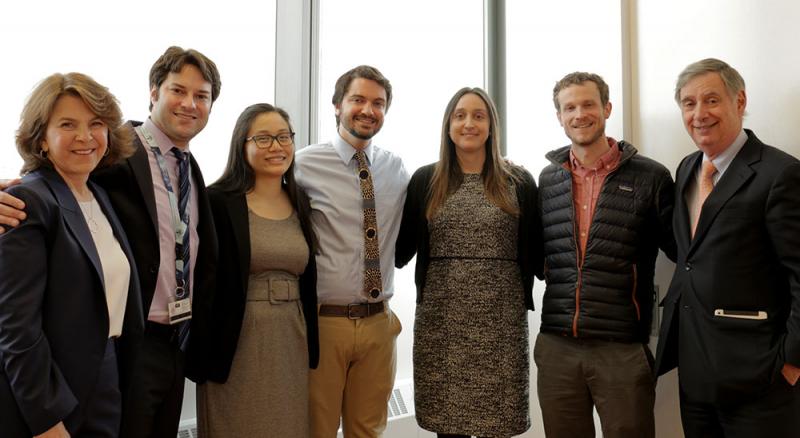 Research Day Winners
Scholarly Projects
Basic Science
First Place: Margot Yopes, "Human Mucosal Sites Are Reservoirs for Naïve T Cells during Early Life" (mentors: Donna L. Farber, PhD, and Tom J. Connors, MD)
Clinical Science
First Place: Yichun Fu, "The Effect of Dietary Fiber Intake on Short Chain Fatty Acid-Producing Bacteria during Critical Illness: A Prospective Cohort Study" (mentor: Daniel E. Freedberg, MD)
First Place: Denzel Woode, "Effect of Chronic Kidney Disease on 30-Day Outcomes for Repair of Complex Aortic Abdominal Aneurysm" (mentor: Virendra I. Patel, MD)
Narrative Medicine
First Place: Brian Reuland, "Patients' Acceptance of Incorporating their Photograph into the Electronic Health Record" (mentor: Jason Adelman, MD)
Research Year
Basic Science
First Place: Max McClure, "Blacklegged Tick Nymph Host-Finding Success and Modeled Host Encounter Rates Are Higher in Mainland Connecticut than on Block Island" (mentor: Maria Diuk-Wasser, PhD)
Second Place: Akshay Save, "Stimulated Raman Microscopy and Highly Multiplexed RNA-Sequencing in Post-Treatment Recurrent High-Grade Gliomas" (mentors: Peter Canoll, MD, PhD, and Jeffrey Bruce, MD)
Clinical Science
First Place: Michael Lubin, "Baseline Regional Gray Matter Volume in Major Depressive Disorder and Three-Month Naturalistic Treatment Outcomes" (mentor: Jeffrey Miller, MD)
Second Place: Deborah Boyett, "MRI-Localized Biopsies Reveal Histopathologic Heterogeneity in Post-Treatment Recurrent High-Grade Glioma" (mentors: Peter Canoll, MD, PhD, and Jeffrey Bruce, MD)
MD/PhD Research
First Place: Adan Horta, "Cell Type-Specific Interchromosomal Interactions as a Mechanism for Transcriptional Diversity" (mentor: Stavros Lomvardas, PhD)
First Place: Benjamin Schrank, "Nuclear Arp2/3 Drives DNA Double-Strand Break Clustering for Homology-Directed Repair" (mentor: Jean Gautier, PhD)
Summer Research
Basic Science
First Place: Laura Goetz, "Developing an Olfaction-Based Go-No-Go Task for Social Memory" (mentors: Steven A. Siegelbaum, PhD, and Sami Hassan, PhD)
Second Place: Farhan Khan, "The Spatiotemporal Dynamics of Ictal Behavior in an Ex-Vivo Model of Glioma Associated Epilepsy" (mentors: Catherine Schevon, MD, PhD; Peter Canoll, MD, PhD; and Guy McKhann II, MD)
Clinical Science
First Place: Mia Nishikawa, "Dietary Prebiotic Consumption Is Associated with Reduced Risk of Alzheimer's Disease in an Elderly Population" (mentor: Yian Gu, MD, PhD)
Second Place: Rashmi Jain, "Improvement in Myocardial Strain After Percutaneous Coronary Intervention in Patients with Ischemic Cardiomyopathy" (mentor: Jeffrey Moses, MD)