12 Projects Win Awards at VP&S Student Research Day
Seventy-three students shared their research with fellow students, colleagues, and faculty at the annual Student Research Day at the Vagelos College of Physicians and Surgeons (VP&S). During the poster session, students described their work to judges, including VP&S Dean Lee Goldman, MD. An awards ceremony capped the event.
Students presented research on a range of topics, from testing the accuracy of machine learning classifiers to identify stroke patients, to development of an augmented reality system for cerebral angiography, to the effect of race and socioeconomic status on outcomes after pediatric allogeneic hematopoietic cell transplantation.
All medical students at VP&S conduct research with a faculty mentor. A scholarly project is required for graduation, and many students spend a summer between first and second years or an extra year doing research in a basic or clinical science lab. One of the most rewarding outcomes for students is when their research findings result in real-world impact.
"It has been incredible to see my project's results turn into policy," says Nicholas Hutchings, MD/MS'18, who took a research year to work on a study investigating iodine intake in Armenia. The country is located in a region that is naturally deficient in iodine, and Hutchings partnered with Yerevan State Medical University and the Ministry of Health of Armenia to survey 1,125 Armenians and assess their iodine nutrition. Hutchings says their findings have prompted the ministry to change reporting of thyroid diseases (often caused by iodine deficiencies), and the ministry and university have updated clinical education on addressing thyroid disorders in light of iodine sufficiency.
MD/PhD students also presented their research at the event. Phyllis Thangaraj, MD/PhD'20, used data from electronic health records to compare and evaluate the accuracy of machine learning classifiers to identify patients with acute ischemic stroke. She applied multiple automated models with various case and control combinations for stroke and compared how well they pinpoint stroke patients. "We built a clustering algorithm that helps to visualize data," says Thangaraj, who is interested in bioinformatics. "The algorithm identifies patients who have probably had acute ischemic stroke, recovering those who were not coded with the standard diagnosis code for stroke by error or because the event happened elsewhere. I plan to use the probabilities generated from our models to stratify patients by stroke severity and visualize different stroke cohort subtypes with the clustering algorithm."
VP&S Student Research Day projects are grouped in four categories—research year, scholarly projects, summer research, and MD/PhD research—with awards for each category.
Research Day Winners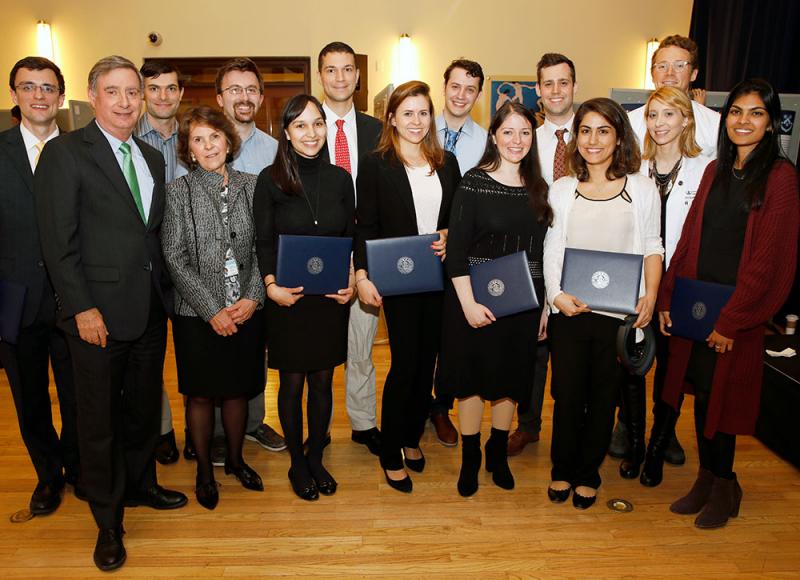 Research Year
First Place:
Gabrielle Loeb and Shirin Sadri, "Augmented Reality Guidance for Cerebral Angiography System Development and Pilot Testing in Nine Patients" (mentor: Steven Feiner, PhD)
Second Place:
Paula Rambarat, "Small Molecule Allosteric Modulators of the ß2-Adrenergic Receptor" (mentor: Robert Lefkowitz, MD'66, Duke University School of Medicine)
Third Place:
Christopher Grubb, "Non-Invasive Visualization of Cardiac Arrhythmias in 3D" (mentor: Hasan Garan, MD)
Scholarly Projects
First Place:
Michael May, "A Randomized Controlled Trial to Assess the Effects of an Antimicrobial Mouthwash on the Oral and Esophageal Microbiome" (mentor: Julian Abrams, MD, MPH)
Second Place:
Erin Elbel, "Hepatic Nuclear Receptor Expression Associates with Features of Histology in Pediatric Nonalcoholic Fatty Liver Disease" 
Third Place:
George Moran, "Systematic Review and Meta-Analysis on the Efficacy of Chemotherapy with Transurethral Resection of Bladder Tumors as Definitive Therapy for Muscle Invasive Bladder Cancer" (mentor: Christopher Anderson, MD)
Martha Muña, "Providing Well-Child Care Through Group Visits: A Comparison of Effectiveness, Efficiency, and Patient Satisfaction" (mentor: Suzanne Friedman, MD)
Summer Research
First Place:
Henry Philofsky, "Increased Cumulative Team Experience Associated with Reduced ICU Admission in Hospitalized Heart Failure Patients" (mentor: David Vawdrey, PhD)
Second Place:
Jacqueline de Vegvar, "Probing a Novel Familial Giant Lipomatosis Syndrome with Genetics" (mentors: Kwame Anyane-Yeboa, MD, and Hector Depaz, MD)
Third Place:
Connor Kinslow, "Surgery Plus Adjuvant Radiation as a Valid Treatment Option for Primary Central Nervous System Lymphoma" (mentor: Tony Wang, MD)
MD/PhD
First Place:
Joshua Chalif, "Ventral Spinocerebellar Tract Neurons Are Essential for Mammalian Locomotion" (mentor: George Mentis, PhD)
Second Place:
Matthew Decker, "Hepatic Thrombopoietin Is Required for Hematopoietic Stem Cell Maintenance" (mentor: Lei Ding, PhD)