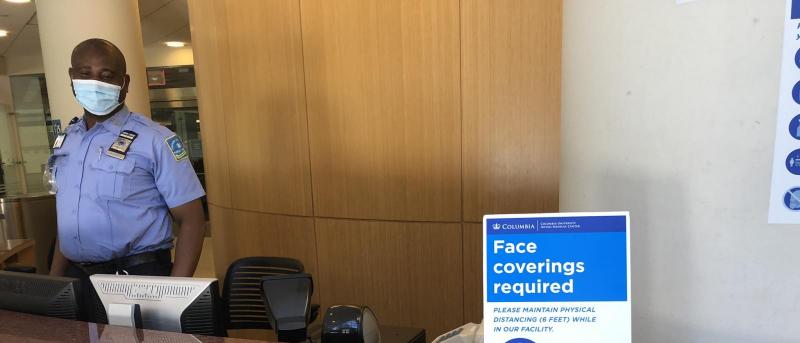 COVID-19 Information for Non-Clinical Staff
Information on returning to campus, including public health guidance for non-clinical staff, can be found under Return to Campus: Employees and Students. 
Additional information, including what to do if you have symptoms, can be found below. 
To provide an additional layer of safety to the ongoing public health and preventive efforts, Columbia University will require an initial single COVID-19 PCR diagnostic test of all faculty, staff, and students who are returning to campus per New York State Phase 1 and 2 guidance. For more information, please see COVID-19 Initial Testing Implementation Process.
Additionally, as of June 22nd, all Columbia affiliates (students, faculty, and staff employees) returning to the medical center for any purpose or who are living in campus housing will be required to complete daily COVID-19 symptom attestations to ensure safety and prevent the spread of the virus. For more information, please see Symptom Self-Checking. 
As the ramp-up continues, an important requirement for everyone working on campus is to complete online COVID-19 safety training, before returning to their workplace, or as soon as possible for essential personnel. Principal Investigators, supervisors, and departments are responsible for ensuring that their personnel (faculty, staff, and students) complete the required training. Everyone will complete the Columbia Community Health Compact as part of this training.
The best way to prevent illness is to avoid being exposed to this virus. However, as a reminder, CDC and other public health experts recommend everyday preventive actions to help prevent the spread of respiratory diseases, including:
Above all, practice proper social distancing. That means avoiding gatherings of more than 10 people; suspending discretionary travel, shopping trips, and social visits; and engaging in work, school, and other activities from home wherever possible.
Stay home, especially when you are sick.
Avoid close contact with others. Maintain six feet of distance between yourself and others when in public.
Avoid touching your eyes, nose, and mouth.
Wash your hands often with soap and water for at least 20 seconds, especially after going to the bathroom; before eating; and after blowing your nose, coughing, or sneezing.
If soap and water are not readily available, use an alcohol-based hand sanitizer with at least 60% alcohol. 
Clean and disinfect frequently touched objects and surfaces using a regular household cleaning spray or wipe.
Follow CDC's recommendations for using a facemask: Facemasks should be used by people who show symptoms of COVID-19 to help prevent the spread of the disease to others. CDC also recommends the use of cloth face coverings for everyone, even those without symptoms, especially in areas of significant community-based transmission. The cloth face coverings recommended are not surgical masks or N-95 respirators. Those are critical supplies that must continue to be reserved for healthcare workers and other medical first responders, as recommended by current CDC guidance.
Masks
All staff will be supplied with face masks and will be required to wear them whenever they are in direct contact with others. To request and pick up masks, contact the following:
Please note that while we do have a sufficient supply of surgical masks, all should preserve and reuse them until they are damaged, soiled or wet. Additional masks requests should be submitted to those listed above as needed.
Symptoms
Symptoms of COVID-19 include cough, fever, shortness of breath, sore throat, chills, and loss of taste or smell. These symptoms may be similar to the flu or the common cold.
What to do
If you have symptoms, have been in close contact with a person diagnosed with COVID-19, and have any other factors that relate to COVID risk (e.g. advanced age, COPD, cardiac disease, cancer, or an immunocompromising condition), call your primary care provider or visit the emergency room if you do not have a primary care provider.  Your provider will determine if you need COVID-19 testing.
Before you go to the doctor's office or emergency room, call ahead and let them know of your symptoms and any other factors that relate to COVID risk (age, COPD, cardiac disease, cancer, or immunocompromising condition). Wear a mask.
The Center for Disease Control and Prevention (CDC) has additional information for specific groups, including pregnant women and children.
Free Virtual Care Visits for CUIMC employees
All CUIMC employees are now eligible for free virtual urgent care visits with CUIMC and Weill Cornell emergency department physicians via NYPOnDemand. The NYPOnDemand app can be downloaded by visiting the NewYork-Presbyterian website.   
Testing for CUIMC Faculty and Staff
​NYP, in collaboration with Columbia University Irving Medical Center and Weill Cornell Medicine, are expanding testing for COVID-19. NYP offers the diagnostic PCR/nasopharyngeal (nose) swab test to NYP, Columbia, and Weill Cornell health care personnel (HCP) who are symptom-free and have been in contact with someone with confirmed COVID-19 or with symptoms of COVID-19, either at work or at home. The PCR test detects the SARS-CoV-2 virus, which causes COVID-19.
To provide an additional layer of safety to the ongoing public health and preventive efforts, Columbia University will require an initial single COVID-19 PCR diagnostic test of all faculty, staff, and students who are returning to campus per New York State Phase 1 and 2 guidance. For more information, please see COVID-19 Initial Testing Implementation Process.
 
How to Access Testing 
If you are experiencing symptoms, call Workforce Health and Safety at 646-697-9470, where you will be directed to a clinician who will evaluate your symptoms. At this time, PCR testing for symptom-free HCP will be available one-time only unless the HCP begins to show symptoms of COVID-19. At the time of appointment scheduling, it is important for HCP to indicate that they are requesting PCR testing for symptom-free employees. HCPs presenting to testing sites for their appointment should practice social distancing and wear a protective mask. HCP who test positive for the virus will be advised to stay home and isolate for seven days from the date of the test (not the date of the results). Results can take from 24-48 hours or longer to turn around. Testing will be available by appointment only.
Self-Isolation
If you're unsure whether you need to self-isolate, see this resource. If you have confirmed the need to self-isolate, see How to Self-Isolate. Should you test positive for COVID-19, please see Columbia's Human Resources Policy Guidance for information on appropriate action regarding self-isolation and your eventual return to work. 
COVID-19 Mandatory Communication Procedure
If you test positive for COVID-19 at an outside provider or testing facility or you have been in close contact with a symptomatic and laboratory confirmed individual, immediately contact Workforce Health & Safety (646-697-9470).
An employee who follows an advised period of self-isolation should contact Workforce Health and Safety (646-697-9470) after the advised period of self-isolation and confirm their clearance to return to work and  CUHR Leave Management. 
Please note that the University's current travel restrictions have just been modified to permit domestic travel for faculty and staff only when video participation is not available. All other restrictions, including on international Columbia-related travel, remain in effect until further notice. For up-to-date information regarding travel restrictions, please see Travel Restrictions by Affiliate Type.
For up-to-date human resources information and resources, see this document covering Frequently Asked HR Questions Regarding COVID-19, which builds on pertinent Columbia University Human Resources policies and will generally pertain to all full-time and part-time employees (Faculty and Staff – Officers and Support Staff). Other employee groups will be reviewed on a case-by-case basis. For unionized employees, please contact Labor Relations for additional guidance.
Updates will be provided as needed.
Return to Work
The COVID-19 pandemic has created fundamental changes in the workplace. Although we would prefer to go back to business as usual, some of the changes brought on by the crisis may become permanent and require long-term adjustment. Once you have returned to the workplace, CUIMC HR will continue to support and assist you with this transition. See Return to Work for Staff for resources that will help you with the transition back to work, such as workplace safety and benefits including child care. Managers, see Return to Work for Managers.
Essential Personnel
During an emergency, Essential Personnel provide services that relate directly to the health, safety, and welfare of the University, ensure continuity of key operations, and maintain and protect University properties.
Each School and Department is responsible for final determinations as to which of its personnel are Essential. Essential Personnel are generally defined as the Faculty and Staff who are required to report to their designated work location, to ensure the operation of essential functions or departments during an emergency or when the University has suspended operations.
There are some individuals who may be required to perform essential services remotely and those individuals will be identified in advance and notified by their managers.
If unable to report to work, appropriate leave time—Vacation or Personal Days—must be taken. If leave time is not available, pay is not provided. Exceptions to this guidance must be approved by the Senior Business Officer (SBO) of the School or Department.
Essential Personnel are expected to work in emergency situations unless they are specifically excused by their departments.  Failure to report to work as directed may result in disciplinary action up to and including termination.
Telecommuting and Alternate Work Schedules
CUIMC is committed to maintaining its mission of patient care, research and education during this time of uncertainty. As with all health care and research institutions, much of our work must be performed on-site by our dedicated faculty and staff.
For the most up-to-date information regarding telecommuting accommodations for clinical, non-clinical, and research faculty and staff, please see CUIMC's Remote Work Guidelines and Tips.
Hiring Freeze
Effective March 24, Columbia University instituted a hiring freeze for the remainder of FY2020, and we expect the freeze may be extended in FY2021.
Effective immediately all academic and administrative hiring across all schools and departments at CUIMC will require that a proposal from the hiring unit (department, center, or institute) first be endorsed in writing by the director of that unit, then be endorsed by the school's dean, and then be forwarded to CUIMC for central review.
Central review will be required for new positions and before filling existing vacant positions, unless the exceptions from central review outlined below apply. In addition, promotions and position upgrades that result in an increase in salary for officers of administration and support staff must follow this new process.
Exceptions for Central Review to be reviewed by CUIMC
Re-filling of roles deemed by the school to be essential onsite employees
CUIMC hires deemed essential for its clinical mission
Accepted, written offers prior to March 24, 2020
Temporary workers approved by the school, institute or administrative unit and contracted for under two months duration
Casual workers approved by the school institute, or administrative unit
Only requests that are approved by this process and by the Office of the Chief Executive of CUIMC will be forwarded to the central university for consideration. Click here to access the form.
NOTE: THIS GUIDANCE MAY BE MODIFIED AS CIRCUMSTANCES RELATING TO COVID-19 CHANGE
Reference
The COVID-19 pandemic represents an unprecedented and uniquely trying time for our community, particularly for providers on the front lines.
In response, the Department of Psychiatry has partnered with ColumbiaDoctors and NewYork-Presbyterian in developing CopeColumbia, which provides information and resources for the CUIMC community, including counseling sessions, peer support groups, guided meditations, suggested reading, and other resources for managing stress, fear and anxiety.
To access these resources, please visit CopeColumbia. For any questions about CopeColumbia, or if you have any unmet needs, please email CopeColumbia@cumc.columbia.edu. 
The Department of Medical Humanities and Ethics and its Division of Narrative Medicine is responding to CUIMC's urgent needs for connection, stress-reduction, and remedy for isolation in the face COVID-19 and challenges to our health and safety. 
Narrative Medicine provides critical resources in response to the COVID crisis. Through Columbia Narrative Medicine, Columbia faculty, trainees, and staff can:
Sign up for a private, small-group seminar with those you work with (Naturally Occurring Work Groups, or NOW groups) to meet with a trained facilitator for regularly-occurring narrative sessions.
 
Join hour-long Zoom sessions with persons across the globe uniting for creative and reflective work. Through a blog discussion board, participants post their creative work and respond to one another's postings.
 
Listen in to Creative Director novelist Nellie Hermann reading aloud a short story each day.
 
Join the NM Book Club, currently reading Albert Camus's The Plague (about 7 pages per day).
 
Use NM's web resources of literary texts and visual images for reflection and solace and pleasure on your own time. We invite you to join us in all these projects at www.narrativemedicine.blog. 
We encourage you to write directly to Rita Charon, chair of Medical Humanities and Ethics, at rac5@columbia.edu with questions and requests.
NewYork-Presbyterian, together with members of the community, will offer free meals to all employees working on campus through July 31st. This is inclusive of NYP employees, Columbia University medical employees,  Service Corp., temporary agency staff, and all other members of the care team.
We ask that departments designate 2-4 employees who can come to the Milstein Second Floor Atrium or The MSCH Lobby to retrieve meals for their unit/department. To promote social distancing, employees should not be picking up meals individually.  
If due to special circumstances you will find it difficult to pick up NYP will do their best to accommodate deliveries on a limited basis. In those cases, please call Bob Ashe (914-715-9454) or Michael Taylor (718-775-0867) to schedule a delivery.
Pick Up Hours:
·         Breakfast: 6:30 A.M.—9 A.M.
·         Lunch: 11:00 A.M.—1:30 P.M.
·         Dinner: 5:30 P.M. —8 P.M.
·         Overnight: Grab and go boxes available for pick up at both locations.
If you have any questions please reach out to the Food & Nutrition Team.