Columbia Cardiologists Bring Specialty Care to Patients' Neighborhoods
Columbia's Division of Cardiology has been involved in community outreach for close to two decades and is now expanding the efforts by teaming up with primary care practices across New York City.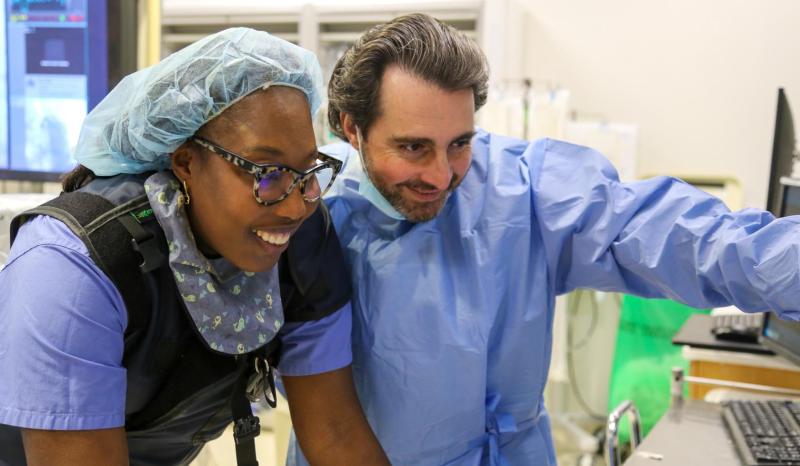 Several days a week, Columbia interventional cardiologist Babak "Bobby" Hassid, MD, travels to select primary care practices to bring Columbia's top-notch cardiology specialists closer to home for patients whose communities often lack such providers. At each office, Hassid meets with the practice's patients and offers a full range of cardiovascular care, ranging from a blood pressure check to a consultation regarding new-onset chest pain to a follow-up after a massive heart attack, with help from a team of providers, including physician associate Woo J. Kim and nurse practitioner Fang Xiang.
"We have no expectations of what we're going to see," says Hassid, assistant professor of medicine at Columbia University Vagelos College of Physicians and Surgeons. "We're equipped to do it all."
Community outreach across NYC
In less than a year, the community outreach program has added more than a dozen primary care practice as partners to its roster. With some 20 locations in northern Manhattan, the Bronx, Brooklyn, and Queens, the outreach practice sees upwards of 150 patients each week.
Martin B. Leon, MD, chief innovation officer for the Division of Cardiology, hired Hassid for the outreach role and says the program is meant to make it easier for New York City residents to take advantage of the medical center's gold-standard care. "Access to care these days is much more difficult, even in an urban center like ours," says Leon, professor of medicine at Columbia University Vagelos College of Physicians and Surgeons and an interventional cardiologist at Columbia University Irving Medical Center.
Bringing these interventional cardiology services to outposts throughout the city gives local patients unique access to the quality of care only Columbia and its NewYork-Presbyterian partner can provide, Hassid says.
"No matter where we're seeing patients, patients receive the same care they'd get walking through the door at our own offices," Hassid says. "And if they ever need a procedure, whether it's a stent or a bypass or a pacemaker or ablation, we find the right specialist and arrange for them to come to the hospital."
Hassid adds that a goal of the outreach program is to keep as much care in the local community as possible, since patients are more likely to follow through with the care they need when it's local and convenient. His team can often perform echocardiograms and vascular testing on site at the primary care offices, and they refer patients who need stress testing—not usually possible in the office—to a local site in the community.
Compassionate touch
Patients are also generally more comfortable meeting a new doctor or specialist in a location or primary care practice they trust in their own community. Hassid says he and his team work to provide patients with a "compassionate touch."
That warmth helped one recent patient get a procedure he needed but was reticent to receive. Hassid first detected the patient's blockage with the help of a state-of-the-art CT scan and recommended a stent to relieve symptoms. The patient opted to try medication first, but when his shortness of breath didn't go away, the patient agreed to have the procedure performed by Hassid.
"I greeted him when he arrived at the hospital, then visited again afterward," Hassid says. "He didn't know how well he could have felt until he had the blockage fixed. Today he's feeling great and has adopted a new exercise routine. It gives us all a huge sense of satisfaction. Yes, we're a big academic institution that does world-class research, but the care patients get is like that of a mom-and-pop practice. They have our number and they feel comfortable calling us with questions and concerns."
Program growing in popularity
The program's patient roster is growing by word of mouth, Hassid says. "Patients see what kind of care you give," he says, "and word spreads in the neighborhood that it's a safe place to come." The team, led by executive director Lisa Hathaway, MPH, expects to hire a non-invasive cardiologist and more office staff to assist with the increased demand. "This is truly a team effort," Hassid says.
The interventional cardiovascular care community outreach program could serve as a model, Leon says, both for other cardiology subspecialties and other medical specialties to give more New York City patients access to Columbia specialists.
"In its first year the outreach program has been surprisingly successful," Leon says. "It resonates with many of the neighborhood physicians, and we think it has significant growth potential."